Professor announces run for Congress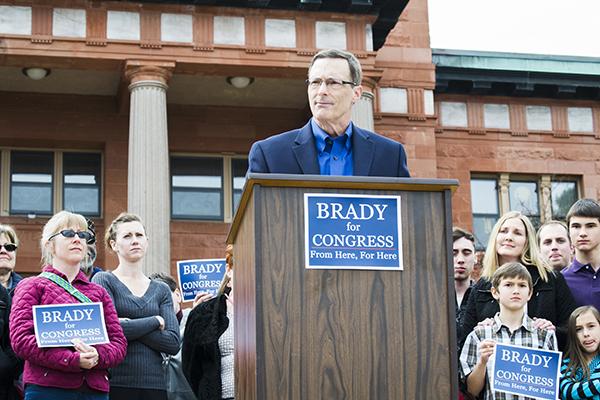 On the steps of the Marquette County Courthouse Monday afternoon Northern Michigan University communication and performance studies professor Dwight Brady announced his candidacy as a democrat for 1st District congressional seat.
Along with announcing his candidacy, the NMU professor added that he is displeased with current representative Jack Bergman and feels Bergman lacks the proper perspective to represent the Upper Peninsula and northern lower Michigan.
"We need someone who will give us more than just two hours of his time every four months," Brady said to the crowd of friends, family, campaign staff and members of the media. "But most off all we need someone who is actually from this district."
As a native of the U.P. and a self-described outdoorsman, Brady said he has a passion for his home Northern Michigan, which he feels is necessary to be an effective representative of the area.
"[Bergman] pretends to be from here and as someone who was born and raised in this district, I don't have to pretend. This is my home."
Another point Brady brought against Bergman was his support of the Republican health care bill. Although the bill was ultimately voted down, Brady said that had it passed, it could have put rural hospitals in the district at risk.
"The rule of thumb in congress is not to vote the party line but to vote your district," he said. "You always vote your district first and Jack Bergman was not prepared to do that."
Brady said he will push to protect health care for Michiganders who are fearful of losing their coverage. Along with that, he added he would also focus on the national debt and decreasing the number of tax breaks given to corporations.
"I know we have to cut spending, but republicans want to cut spending and turn around and give huge tax breaks to billionaires. The numbers just don't add up," Brady said. "It's fine to spend $1 trillion on infrastructure but you can't give $3 trillion in tax cuts to corporations and expect to balance a budget."
Brady praised former 1st District Representative Bart Stupak, who he said would take any free moment he had from Washington to spend back in his district and added that he hopes to represent northern Michigan the same way.
As for the road ahead, the NMU professor sees the large size of the district to be an issue as far as campaigning.
However, Brady said he feels his appreciation for the state will make traveling enjoyable.
"I look forward to driving to places in northern lower Michigan that I've never been to, Brady said. "There are so many cool little peninsulas that stick out of the big peninsula that it would be just so much fun to visit some of these smaller towns and get to know people all across the district."
Brady said he will continue to teach at NMU and added that instead of his campaign splitting his time, he thinks of it as doubling his work load.