The 60-foot AAA wall by County Road 510 in Big Bay is one of Marquette county's best sport climbing sites and a popular outdoor location for local rock climbers ever since the 1970s. A quarter mile away down once-rugged trails, stands the lesser-known rock formation Secret Crag.
About 15 NMU students from the South Superior Climbing Club (SSCC) volunteered a work day on Sunday, April 2 to improve the trails that get to Secret Crag, pick up trash and level the ground at the base of the rock to make belaying climbers safer. They worked from 10:30 a.m. into the afternoon, then enjoyed some ascents. The project assisted the Upper Peninsula Climbing Coalition (UPCC), a nonprofit advocacy group, in its efforts to keep the location pristine and open to climbers.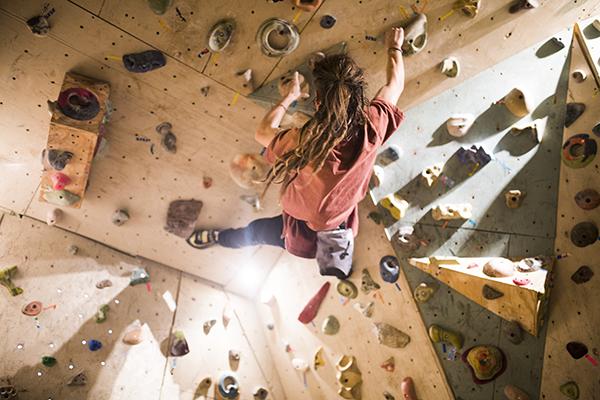 The work helped secure a recent grant from the American Alpine Club for the UPCC to keep maintaining the AAA area. The land is privately owned by Longyear Realty Corp., which allows people to recreationally climb there provided the area is kept clean.
UPCC pays for a liability insurance policy and other rules are obeyed. UPCC President Phil Watts, a retired NMU professor of exercise physiology, had high praise for the Northern students and their service to the community.
Story continues below advertisement
"It's been a real good group, willing to jump in when work needs to get done and when access [to climbing sites] becomes an issue," Watts said.
SSCC is a somewhat informal club numbering between 40 and 80 members, said SSCC President Eric Krause, a junior biology major. The group holds no regular meetings, but does host some annual events and helps the UPCC with site upkeep a few times a year. The club is open to students both experienced and new to the recreation.
Krause has witnessed the student climber population grow in recent years.
"When I first started climbing in 2014, the community was pretty small," Krause said. "I'd go to the [Outdoor Recreation Center] wall and there'd be five or six people there. Now I go, and some nights there's 30 or 40 people waiting to use the ropes—and we all know each other."
In addition to members using the Outdoor Recreation Center wall at the PEIF, SSCC also hosts social climbs at outdoor sites during good weather in the fall. They set up the safety equipment on rock formations, let new climbers borrow gear and help them with technique.
"It's a great way for people to get outdoor climbing experience," said junior biology major Georgia Harrison, who is now on the club's decision-making board.
Harrison has been active in the club since she was a freshman and has gone on SSCC's annual spring break trip to the Ozark Mountains in Arkansas for two years now. The club members carpool to Horseshoe Canyon Ranch for a week of outdoor climbing.
"I felt confident by the end of the week that I'd got a lot of skills," Harrison said, remembering her first spring break. "I also felt like there was a strong community—if I wanted to try a new area, I could have people show me and support me." SSCC members also participate in the monthly Beer and Boulder social gatherings at the Marquette Climbing Co-op, a residence on Fourth Street in Marquette that has a bouldering wall inside the house.
The biggest event SSCC organizes is bringing the Reel Rock Tour, a national film festival that shows short climbing movies, to campus in the fall. It's also SSCC's biggest fundraiser, as moviegoers can buy tickets for a gear raffle.
Although no fee has been charged for some time, SSCC will probably charge $20 membership dues for next year, Krause explained. The money would go mainly toward a donation to the UPCC to continue its service of maintaining local sites, such as replacing rusted safety bolts implanted in rock walls, and to pay for the cost of liability insurance for using the AAA area.
"I'm really excited looking toward the future of the club and to getting dues," Harrison agreed. "It's about being able to give back to the climbing community and to the UPCC in a substantial and systematic way."