'Cats snatch second place at GVSU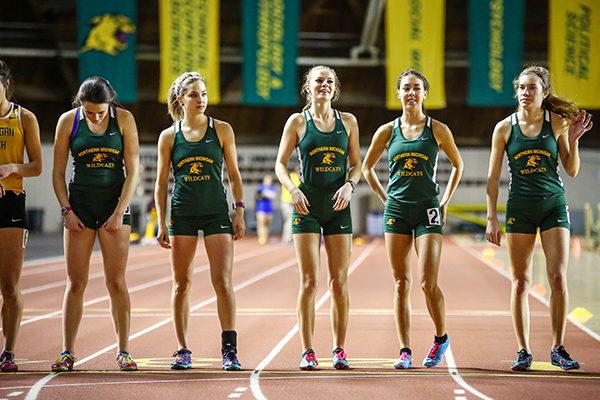 With less than two weeks left in the school year and finals week approaching, the Northern Michigan University's Women's Track & Field team competed in the Al Owens Classic at Grand Valley State University, coming home with a second place finish and 102.5 points overall.
Host university Grand Valley State took the top of the podium with 194.5 points. Siena Heights University in Adrian rounded out the top three behind NMU.
Head coach Jenny Ryan said she was pleased with how they performed overall.
"We definitely had some great performances, it was great for us to get second," Ryan said. "This meet was good too because we also saw some GLIAC teams."
"We had a lot of seconds, thirds, fourths and fifths too, so it is a big deal for all of us," Ryan added.
Junior distance runner Kameron Burmeister captured NMU's lone first place finish, clocking in at 17:21.99 in the 5,000-meter run. Fellow junior distance runner Keiren Becker notched second place in the 800-meter run at a time of 2:12.2.
In the field events second place finishes went out to senior Samanthia Johnson in the discus throw (153' 8") and to junior Ine Mylle in the triple jump (39-06).
Becker recorded two NCAA provisional times. She placed second in the 800-meter run and fifth in the 1,500-meter run.
Johnson, Mylle and a few others on the team also placed in the NCAA respective events.
Along with Becker and Burmeister, sophomore distance runner Abby Fifarek, who finished in the top eight in the distance events, said it was one of her best meets of the season.
"This is one of the first races of the season in which I felt great about it," Fifarek said. "Having four athletes in top eight was really beneficial."
Fifarek believes that the team's results can help boost them in the conference championships.
"Going to GLIACs I think we can carry our results over to that meet," Fifarek said.
Johnson felt mixed about her results from the meet, but she was proud of her achievements all the way from her first outdoor meet.
"It wasn't as far as I wanted to be but I was definitely glad that I improved from my first outdoor meet," Johnson said. "That pressure was definitely off me, so I wasn't feeling like, 'oh my gosh, I need to get this done.'"
As a senior, Johnson said she approaches her last meets just like what she did in the indoor season.
"Knowing that I'm a senior and it's my last season, I just want to finish strong and prove to my coaches that I can do so much more," Johnson said.
The team will get some rest for finals week, and Ryan said that she knows the team needs to balance academics and focus on the upcoming meets.
"We've actually been training hard, and we are going to be tapering down a little bit," Ryan said. "The tough thing is that they're training, studying for finals and finishing all the little things."
NMU's outdoor track season moves to their biggest meet at the GLIAC Outdoor Championships May 3-5 in Grand Rapids.