Creating a more user-friendly university: Students return to a like-new Northern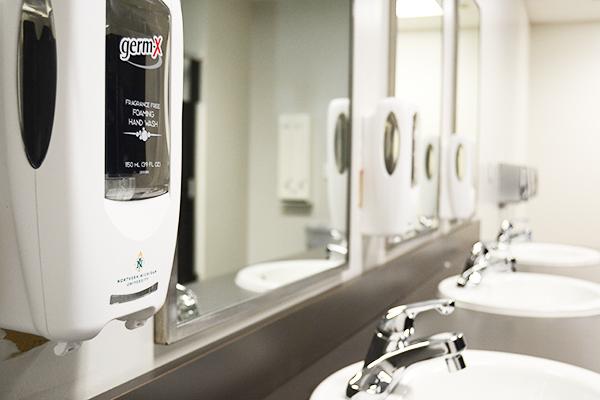 Students may have noticed that the NMU campus has several new amenities to bring a more distinctive feel to the Northern experience.
All university bathrooms have been upgraded to include new paper towel and tissue holders as well as new Germ-X soap dispensers.
The new bathroom accessories are a result of NMU switching to a new paper vendor wherein every five years the university requests bids for the prime vendor contract of custodial supplies.
The recent bid was awarded to Dalco Enterprises who manufactures and distributes Germ-X soap products and Georgia-Pacific (GP) paper products as their product lines to NMU. 
"Contractually, it is Dalco's responsibility to replace the dispensers [that] supply their products at no cost to the university," Brandon Sager, assistant director of Facilities, Building Services and Sustainability, said in an email to the North Wind.
Sager emphasized that NMU uses a competitive bid process to help the university ensure that it obtains the best price and services for these products.
The GP toilet paper is considered EcoSmart for it's recycled fiber content, is coreless, which means it has a high capacity of 1,000 sheets of two-ply tissue per roll and is supposed to reduce service calls to refill dispensers and reduces toilet paper runout, according to the product's review.
"Each roll contains at least 20 percent of post-consumer recycled fiber and meets or exceeds EPA Comprehensive Procurement Guidelines," Sager said.
The GP paper towel is provided to NMU is UL ECOLOGO Certified as well as Green Seal Certified, Sager added. The Green Seal mark represents compliance with a rigorous set of criteria designed to achieve leadership levels in sustainability, according to www.greenseal.org.
Other improvements to campus include new pedestrian kiosk signs that were initially part of a Wayfinding Project that was included in the Five Year Facilities Master Plan from 2016.
"Between 2009 and 2015, NMU installed new campus trail blazers that direct visitors to the University," Kathy Richards, associate vice president of Engineering and Planning Facilities said in an email.
This project is intended to provide a design for a comprehensive wayfinding system that clearly identifies existing campus entries and directs both vehicular traffic and pedestrians to NMU facilities and amenities at NMU.
The ground mounted gateway signs are at the primary entry points to campus and they include boundary makers clearly identifying the perimeter of campus, two digital marquee signs and five new building identifier signs, Richards said.
"During the summer and fall of 2016, the remainder of the NMU's building identifier signs and pedestrian kiosk signs along the primary walking route through campus were replaced. The remaining phase of this project includes parking lot
designator signs and vehicle guide signs."
The newly added kiosks, which have campus maps displayed on them, was but one of the initiatives identified in the 2008 Campus Master Plan to develop and implement a comprehensive wayfinding and signage system.
The installation of the new signs was delayed last fall and they were actually installed this summer, Richards said.