Iron Bay creates comfort cuisine: Restaurant brings historic flavor to Washington Street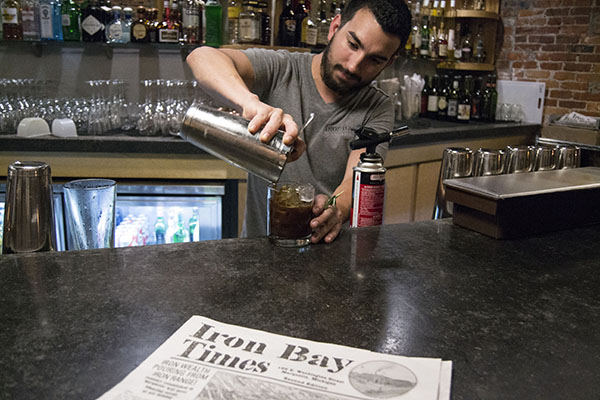 Walking into Iron Bay for the first time, I was pleasantly surprised by the architecture of the building. Black and white pictures fill the walls with exposed brick giving the restaurant a rustic, old-timey vibe.
My friends and I were greeted and seated right away. We opted to sit out on the patio instead of indoors and were welcomed with a nice breeze and very few bugs to bother us. Our server greeted us in a timely manner and brought drinking water right away.
The menu had a unique touch—it was laid out like a newspaper with the history of the restaurant written for diners to read while they peruse the food selection. The cuisine collection itself was a bit underwhelming with not much variety to choose from. The
options however, were indeed creative and different than what I was used to.
For an appetizer, I selected the whitefish tater tots, as per a recommendation, and out of my own curiosity. They were made with whitefish, grated potato, cheddar cheese, herbs and remoulade sauce. The tater tots did not take long to arrive. My first bite, and every bite after, had a crunch and a hint of the herbs within. The fish in the tater tots did not overpower the other flavors, which I was extremely pleased with.
For my entree, I chose to get the bell tower burger, which consisted of cheese, bacon, fried onion strings and Michigan cherry bourbon BBQ sauce, and also included tomato and lettuce, which I opted not to have. The entrees came out shortly after our appetizers, but gave us enough time to finish the tater tots before we dove into our main course.
The burger was absolutely delicious. It was cooked to order and was not dry at all. The flavors blended well together. The BBQ sauce had a great mixture of sweetness and tanginess that added a nice touch to the burger. The fries had a crispness to them that I enjoyed and had plenty of flavor from the black pepper seasoning.
Overall, the service was good and our waiter was pleasant and helpful and checked on us multiple times throughout our meal. The flavor of the food was satisfying and did not take away from any of the other ingredients, but instead added to them.
The one drawback to the meal was that the portions were small for the price. That was the only thing that dampened the experience and would deter me from coming often, but I would definitely go back to Iron Bay and try more dishes— given I find some extra spending cash.