Editorial: It's called Superior for a reason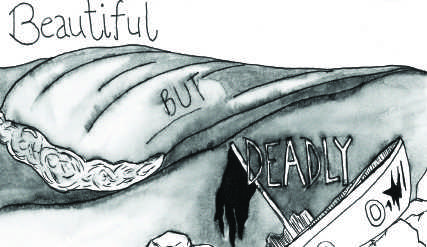 Half the allure of living in Marquette is the town's proximity to the largest body of freshwater in North America. Mama Superior's piercing blue water, vast expanse and thrashing waves make her a sight incomparable to any other. But with this beauty comes another attribute that is often forgotten—her sheer strength.
On Oct. 24, Marquette was reminded of the power the body of water possesses as our town underwent what some have been calling our own little hurricane. The storm, which has been compared to the one that sunk the Edmund Fitzgerald, tore down power lines across town, disheveled asphalt along the lakeshore and even took two lives.
This is not the first time Lake Superior claimed the lives of multiple people. While mystifying, it is imperative those of us who wish to indulge in this great body of water stay aware of how to be safe around it.
Getting caught in a rip current is one of the most common ways to find oneself in Superior's grip. New students, research how to get out of a rip current before indulging in the lake, and current students, refresh yourself on this safety tip each summer.
A good habit to make is checking the beach flag advisory system. This system lets swimmers know the current conditions of the lake and if it is safe to be swimming. 
Remember not to make yourself a victim. If you are with or witnessing someone who has become a victim to the lake, do not go in after them.This is why the lake often takes people in twos. Instead, yell to them how to get out of a riptide, call 911 or, if available, throw them a safety device.
It's truly tragic that each year, locals become the victims of the lakes strength, but typically these life and death instances can be avoided by respecting our ocean-like lake. Let the tree branches still on the ground, the tilted powerlines, the destroyed asphalt and the lives lost, stand as a reminder that while beautiful, this lake is fierce.
Enjoy all Mother Superior has to offer, but remember, this body of water always stands Superior.