'Stranger Things' season 2 heats up the action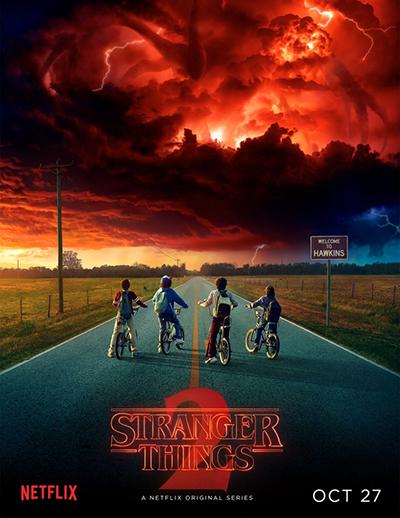 Story: The Duffer Brothers bring on the heat with nine new chapters of the second season of their Netflix original series "Stranger Things." They take us back to Hawkins, Indiana to make new friends and defeat a whole new breed of monstrous "demogorgons," while shedding light on what coming of age means for '80s middle school kids. For the entire cast, a sense of longing is felt in the first half of the season; that sadness then turns into determination that takes many different shapes, avenues and adventures for the kids of this small town.
Characters:  Season two brings a few new characters to the screen, but it leaves plenty of time to dig deep and build on returning cast members to create even more tangible character progressions. This is best demonstrated with the leading lady, Eleven (Millie Bobby Brown), as she starts the season in captivity with Police Chief Jim Hopper (David Harbour) in an attempt to withhold Eleven from harmful government officials; during this time, the chief attempts to strengthen Eleven's vocabulary and give her a taste of normalcy. Meanwhile, Eleven's desire to find her mother grows stronger, and she also seeks to find a sanctuary for escaped lab subject kids like herself.
Max (Sadie Sink) shakes up the AV club when she moves into town and beats the boys' highest score at the arcade. Her arrival peaks an awkward discovery of middle school love for the boys.
Jonathan and Nancy cut class to look deeper into the Hawkins' laboratory in an effort to give meaning to the death of Barb that we saw in season one. This adventure allows for some major news coverage that can't be covered up.
Sean Astin is brought on board as a tech-savvy love interest for Joyce (Winona Ryder), and his edgy interactions paint him as a suspicious antagonist. Ryder's role as the overprotective mother can come across as overbearing in many of her scenes, but the fire and the wit remains across the cast. 
Noah Schnapp's portrayal of Will Byers stands out as a challenging but well-executed character, given that Will holds a connection to to the monster for much of the season.
Style: Sometimes a show's return can be made in a bit of a glossed manner, especially after the franchise rides a wave of popularity. But here it's clear that the Duffer Brothers returned to the writing room with none of that in mind. Viewers know what to expect from these characters; we also see their curiosity grow into more maturity.
The collection of songs that contribute to this season accentuate the colorful scenes and witty dialogue that most have come to love. The best directed scenes are fragmented in a way that moves the narrative forward with a strong momentum. The CGI cuts are believable and vibrant with the unfortunate exception of the demogorgon creatures that take over Hawkins.
Verdict: Such a creative and full world has been created in just 13 chapters. Let us hope that the brothers haven't used all of their healthy, suspenseful narrative yet; that is a fear as we move into the next chapters of the series because the creatures of "The Upside Down" may not be able to remain at the center of this story for much longer.
It's clear that "Stranger Things" is influenced by past creations but is a story all its own. Season two is a polishing of that distinct style many have come to love. It will be interesting to see what the brothers have in store for the Hawkins kids.