Speaker plans to address gender roles and women in today's media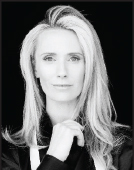 Platform Personalities will welcome popular filmmaker, CEO and advocate for women's rights Jennifer Newsom to NMU to talk about women in today's media and how America's narrow definition of masculinity is harmful for society.
Newsom's discussion, titled "Women and Girls in the Media: If You Can See It, You Can Be It" will take place at 7 p.m. on Wednesday, Nov. 15 in the Jamrich Hall auditorium.
Newsom is known widely on campuses across the country for her successful industry documentary "The Hunting Ground," which was recently shown here at NMU during Sexual Assault Awareness Month. For this particular event, Newsom will address the current climate of American media, it's harmful effects of our culture at large and the impact of media and culture on women's representation in leadership positions.
Women are bombarded and objectified to where we need more female role models, said Rachel Harris, director of the Center for Student Enrichment and adviser of Platform Personalities.
"Women today are valued for their beauty, youth and for the sexuality, instead of for their minds and capacity as leaders," she added.
The upcoming discussion follows the dynamics and statistical results of Newsom's "Miss Representation" documentary, wherein she addresses how women are known to have few leadership roles but a man's success in society is tied to not only dominance, but to aggression and power as well.
Although there are both men and women who are in the entertainment industry, Newsom's film examines how women are less recognized than men.
"With America having a delusion of masculinity, others can be encouraged to obtain authentic relationships to where parents can raise not only healthier girls but boys too," Harris said.
Co-president of Platform Personalities and junior economics major Sarah Head said, "We hope this experience will help to shed light on leadership roles and can empower younger women to reach their goals."
The event will conclude with Q&A session between audience members and Newsom. Following Newsom's visit to NMU, Platform Personalities will send out a brief survey list of the speakers the group is considering for the 2018 winter semester.
The event will be free to all NMU students with an ID and $2 for the general public.
Platform Personalities brings a variety of six to eight speakers an academic year that gives students a chance to hear from someone who is not only motivational, but also inspirational and can generate interest from students. Meetings for Platform Personalities are held at noon on Fridays in their office located on the first floor in the University Center.