Community to spread goodness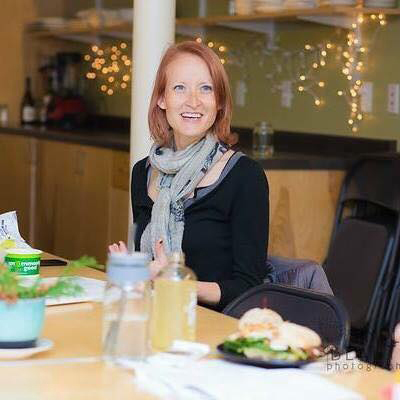 Celebrate on Friday, March 9, with Spread Goodness Day, an event created with the intent of encouraging others to carry out one small act of kindness and "[make] the world so bright you're gonna need shades."
Creator of Spread Goodness Day, Anna Dravland, hopes the event will spread the idea that one act of goodness multiplied by 100 or 1,000 can be extremely impactful, she said.
"Whether it be opening a door for somebody, smiling, shoveling their walkway, it doesn't need to be something that costs money. Just do something nice that day," Dravland said.
Community relations and event marketing coordinator at Travel Marquette, Dravland has been brainstorming how she can make a difference for several years. Because of her career, naturally she thought an event would be the best way for her to change the world, she said.
She launched the event on Oct. 28, but its gravity changed when Dravland, 34, had a major stroke on Nov. 16.
"It's a rare stroke and it definitely almost killed me. If I recovered from the stroke, all I wanted to do was to make sure my event could still happen," Dravland said. "I felt really sad because I lost months of planning time to make sure it could be a really big day. I was laying in the hospital calling my friends asking them to do things for me and then getting mad at them because they didn't do it exactly the way I would do it."
The road to recovery from a stroke is a long one, and according to Dravland's doctors, she is still "completely incapacitated," but for her this is only more motivation.
"For me, it really is true. There is no excuse for people to say they can't make a difference or any excuse they want to put in their own way," Dravland said. "This project itself is my whole world right now outside of doctors, therapists and recovery, so I'm really glad to have it because it keeps my heart pretty warm."
So far, 56 businesses and organizations around the community have committed to various acts of kindness on March 9, including 40 Below Marquette County Young Professionals and the Upper Peninsula Children's Museum, which will host an "Every Kid Deserves a Birthday Bagging Party" where participants will pack 200 birthday party packs to distribute to families who may not be able to give their children birthday parties, and Rohana Yoga & Wellness will host two free yoga classes.
"I have all these amazing businesses, organizations and individuals committing to whatever version of goodness they want to do. That's really the important thing for me. It's a platform for other people to decide how they want to do goodness, not for me to decide how they do goodness," Dravland said. "I think it's really important to shine a light on people to make them realize that their actions are affecting people every single day."
Dravland hopes to see the clubs and organizations from the Northern Michigan University community planning their own acts of kindness for the event as well, she said.
"It can be as silly as slipping little notes under people's doors. Make it as fun and heartwarming as you want it to be," Dravland said. "I just want people to participate in doing something good that day, pick up the garbage, clean up the laundry room, be a little bit nicer to your roommate even though they drive you crazy," she added.
There are several ways to share your acts of kindness with Dravland: on the Spread Goodness Day Facebook page, with the hashtag #spreadgoodnessday or by commenting on the Spread Goodness Day website.
"For me this is everything this has been my dream for some time. I hope that this grows. I want to see it happen every year and I want people to keep catching onto it and to be able to make an impact on the world," Dravland said.