Kodak Black spits lovelorn bars from behind bars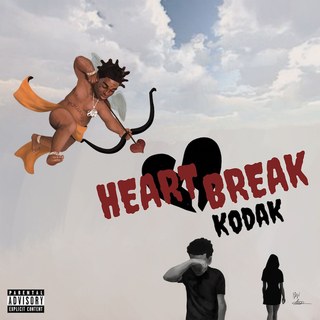 Florida rapper Dieuson Octave, better known as Kodak Black, released his latest album on Valentine's Day, "Heart Break Kodak." This release comes while Kodak is behind bars for weapon charges and multiple probation violations after a raid on the rapper's home last month.
Kodak was arrested when police were alerted after the rapper posted an Instagram Live video, according to Complex. This resulted in a raid in Kodak's home where he was arrested—all on Instagram Live. The child neglect charges were dropped along with possession of a weapon or ammunition by a delinquent and grand theft of a firearm. He is still facing charges, including three probation violations, marijuana possession and possession of ammunition.
Normally, Kodak's music is gritty, violent and cutthroat, and reflects a harsh street upbringing. This album incorporates all of that, but with a little less violence and more emphasize on love, or lack of it. Kodak began getting popular around 2016, with viral hits like "No Flockin," and then in 2017 with "Tunnel Vision."
"Heart Break Kodak," on the surface level, is an anti-love album with a few tracks where Kodak yearns for affection. Kodak's lyrics depict years of heartbreak caused by significant others and also the people closest to him, proclaiming his jaded attitude toward the world and relationships.
Kodak's voice is bare and authentic on the entire project, with no hint of auto-tuned vocals (which are so prevalent in hip-hop nowadays). Instead, Kodak stays raw, evoking a gritty, bluesy feel. His voice breaks and crumbles. One song, "When Vultures Cry," is not even mixed or mastered. It is an unfinished track where Kodak's voice is not melded with the beat at all. Regardless, it is still a listenable track. The unfiltered, untouched sound at first comes off odd, but as the track continues, it actually fits well.
Kodak sings quite often on this album in sloppy, mumbled melodies between rap bars, also adding to the bluesy aesthetic, seeming improvisational at times. The Floridian's vernacular is woven with broken English and little pronunciation, sometimes falling off beat then working his way back to it. And while the sloppy delivery works well in some songs, in others it just feels awkward.
The album illustrates how Kodak keeps his own well being safe by not letting himself be hurt again. Kodak finds himself in love at times, and then other times cutting off that love. Lines like, "But I gotta keep the hammer tucked cause even my dogs be jealous" refers to not even being able to trust his closest friends. These type of lines are abundant. It shows a kind of paranoia Kodak expresses with people he keeps around him.
For every line about love, there is a line about hating love to match. The juxtaposition feels genuine, as most everyone has had their heart broken at least once, has felt as if they hate love, and avoid it altogether, to eventually falling in love again. Lather, rinse and repeat. Kodak will praise a woman and then demonize her in the same breathe. The indecisiveness adds to the genuine emotional feel of the album. Lyrics like, "Valentine's Day, but I don't love you, April Fools," and "Make your daughter cry on Valentine's, that lovin' s*** be dumb" perfectly exemplify Kodak's cold, tortured-heart attitude.
The content is perfect, especially for the release date, but the delivery falls a bit short.
Kodak fans will enjoy certain cuts on this track, where Kodak's vibrant personality comes to life. He talks about his accomplishments and success, while also engaging the demons he battles. Incarceration is heavy on his mind and how he seems to be stuck in a continuous cycle. He jumps back and forth from wanting to be "good" to viewing himself as a hellion, with lyrics like "Jumped up out the womb like my daddy's the devil." Kodak fiddles with the idea of morality and if he is bound to his struggles or if he can overcome them.
Whether you are heartbroken, or in love, you will be able to find something to relate to on this album. Kodak sings from his heart. Sometimes his singing falls short, while on other tracks his ability to ride a beat nonchalantly is unmatched. The cutthroat and heartless Kodak matches affection with ruthlessness in harmony.