The Weeknd returns to dark origins on new album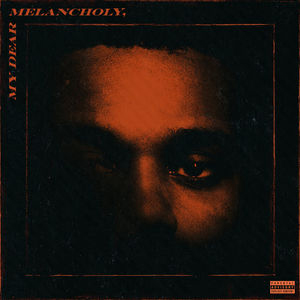 Album: "My Dear Melancholy"

Artist: The Weeknd

Label: XO, Republic Records

Genre: Pop, R&B

Runtime: 22 minutes

Rating: 4/5 stars
After nearly seven years since the release of his groundbreaking debut mixtape "House of Balloons," Canadian artist Abel Tesfaye, better known as The Weeknd, has returned to his dark art-house origins that originally propelled him into pop-stardom with this latest album "My Dear Melancholy."
It feels odd to say that The Weeknd's music is returning to a so-called "darkness." His music has always been rooted in very intensely personal subject matter, such as drug addiction, heartbreak, depression and his trademark hedonism. Even on "Beauty Behind The Madness," an album loaded with mainstream hit-songs like "Can't Feel My Face" and "The Hills," the content of those songs were not exactly "radio friendly" in the way so much of contemporary pop music is.
On "House of Balloons" listeners heard what sounded like a man in despair. The Weeknd's lyrics spoke of constantly being ripped apart by heart-break and drugs. Resonating with so many music-listeners, The Weeknd's popularity grew rapidly and he followed up with two more mixtapes "Thursday" and "Echoes of Silence," which completed the commercially and critically acclaimed "Trilogy" series. The Weeknd's awareness of his own personal struggles combined with his sharp storytelling ability have made him an undeniable force in music and objectively a revolutionary in the R&B and Pop genres.
However, I must admit I find this return to form a bit surprising despite how pleased I am with the results. With The Weeknd's last release being "Starboy," a heavily electronic and pop inspired album, I thought he would continue evolving into the superstar he had already become. "Starboy" felt so much lighter and accessible with the addition of high-profile collaborators like Daft Punk, Lana Del Rey and Kendrick Lamar. So when I put on "My Dear Melancholy," I couldn't help but reminisce of the nostalgia from when I first became a fan.
The EP kicks off with the absolutely epic intro track "Call Out My Name." The subdued piano keys on this track work their way into an electrifying vocal performance that is possibly a contender for one of The Weeknd's best ever. The lyrical content of the song is a familiar one where The Weeknd is grappling with heartbreak and feeling used by the woman he loves.
The fantastic and haunting melodies on this EP don't stop on the next track "Try Me," which is a bit more electronic in its production like "Starboy" was, but is notably darker sounding with a schizophrenic beat and The Weekend's voice being layered in reverb. "Wasted Times" is another highlight on the track-list, co-produced by Skrillex who adds excellent vocoder effects to the latter half on the song that are sort of reminiscent of an early Daft Punk production from the early 2000's.
I think that this EP would be better served if "I Was Never There," featuring French DJ, Gesaffelstein, was removed from the track-list. The song is quite over-produced with a whiny lead melody that couldn't be saved by The Weeknd's vocal performance and songwriting. Gesaffelstein is used much better on the following track "Hurt You" which is co-produced by Daft Punk's Guy-Manuel de Homem-Christo.
I believe this return to form for The Weeknd will serve as another great entry into his discography, despite it being familiar territory for day one fans. I'm curious to see if the next release from The Weeknd will maintain this familiar sound or challenge his audience by exploring new territory.