Storied program builds champions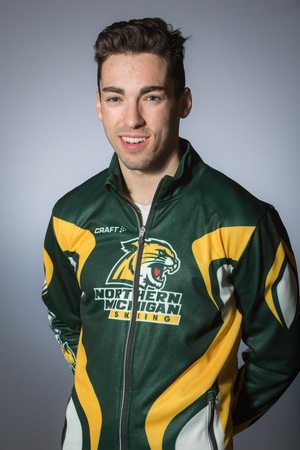 Ian Torchia joins prestigious company after earning national championship honors in March
Ian Torchia has been training every day since freshman year to become a national champion nordic skier. He looks up at the wall at the Physical Education Instructional Facility with the names of national champions before him. Seeing these names everyday makes winning a national championship title achievable in his head, especially when three of the seven are people he's trained with.
His dream came true during the 20-kilometer freestyle race at the 2018 NCAA Skiing Championships, held in March in Steamboat Springs, Colorado, making him the seventh NCAA champion in NMU Skiing history.
"I was getting more and more nervous as the race progressed," Torchia said.
Torchia, a junior exercise science major, two time ski national champion and USCSCA Male Nordic Skier of the Year, chased his competitor down on the third lap, trying to close the gap and gain speed on the downhill. He recalled getting some major goosebumps when he cut around the final bend.
"That's when I knew I had to give it all I had," Torchia recalled as he flew into first toward the finish line. He finished in 54 minutes and 21 seconds.
When former Wildcat skier Fredrik Schwencke won the National Championship Torchia's freshman year, Schwencke went nuts, Torchia recalls.
"Winning the National Championship meant a lot, especially for the [ski] program," Torchia said. "Now I know what that feels like."
Head coach Sten Fjeldheim said the results speak for themselves. Since 1992, only two teams failed to finish in the top 10 of the NCAA end of the year polls, Fjeldheim explained.
"Torchia is one of the keys of our current program," Fjeldheim said. "When he came in as a freshman, there were four guys that were far better than him, and after challenging Torchia, he turned out to be one of the best athletes in the program by far."
Torchia's high school in Minnesota had a club ski team, but didn't have the resources available for classic style, the technique in which racers transfer their entire body weight from one ski to another and momentarily ski while balancing on one leg.
The summer before Torchia came to NMU he decided to ski classic style. Everyone advised Torchia against trying out for the team with classic style, and said that coach Fjeldheim would rip him to shreds.
"And he did," Torchia said. "I took about five strides and Fjeldheim stops me and says, "What the hell are you doing?'"
"I learned more in those 30 minutes of practice than I did in the past three years," Torchia said.
The key to the culture of NMU skiing has been diligence and hard work, Fjeldheim said.
Skiing is a 24/7 sport, there's no such thing as an off-season anymore. The team has just two to three weeks off before finals week in the spring to actively rest and start training in May, Torchia said.
"The future looks promising," said a gleaming Fjeldheim.
NMU retains much of its roster heading into next season, losing three prolific senior skiers, including Vivan Hett, Kristen Bourne and Caroline Brisbois. With Torchia returning, title hopes remain high for a talented Wildcat program.