Get wild for the first Lake Wild Music Festival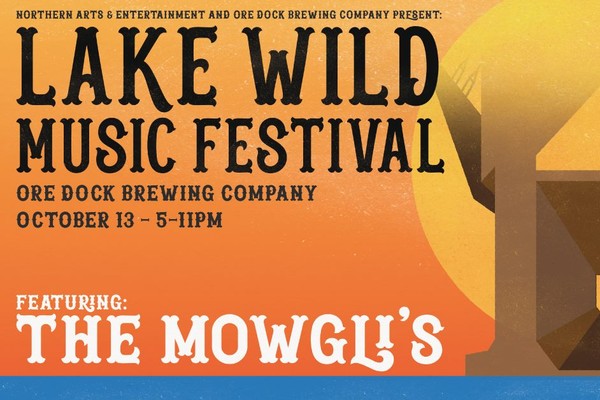 On Saturday, Oct. 13, when the clock strikes 5 p.m. at the Ore Dock Brewing Company, the streets will
be full of crowds rallying
together during the first Lake Wild Music Festival, Ore Dock Brewing Co. events
and entertainment manager Kris Wierenga said.
Collaborating with Northern Arts and Entertainment (NAE), the festival will take place
on Spring Street in downtown Marquette from 5 to 11 p.m. Some of Marquette's "best food trucks" will be available, along with art vendors and a diverse lineup of bands, senior graphic design major and
president of NAE Megan
Hillier said.
Musical talents include the upbeat, feel-good rock band The Mowgli's, jazz band
Chicago Loud 9, a four-man folk band called The Brothers Quinn and Marquette's easy-going bluegrass band known as Strung
Together.
The Lake Wild Music Festival is a twist on NAE's usual Fall Concert. Adding in the brewing talent of the Ore Dock, NMU student artists will also have
an opportunity to showcase their work at student artist booths.
"This is a chance for students and the community alike
to come together and unite under a tent and have a good time," Wierenga said.
NAE has managed to attract large crowds in the past by bringing well-known artists and speakers.
"I think it's gonna be packed," Wierenga said. "We're shutting down Spring Street so we're
going to plan to [safely] have
as many people. Certainly, there will be hundreds of students and community members."
Students can obtain tickets in advance at any NMU ticket
outlet for $15 with their NMU ID. Or they can be purchased online at nmu.edu/tickets for $20, for any student 17
and up. Tickets can be
purchased at the door: $20 for students and $25 for
the public. Students without
access to transportation can also hop into a Checker Cab provided by Ore Dock from 4:30 p.m. to 11:30 p.m., which will run from The Woods to
the Ore Dock Brewing Co.