Castlevania review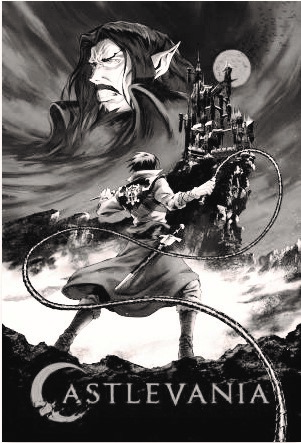 Fight the Darkness with Whip, Magic, and Sword

Series: Castlevania

Director: Sam Deats

Starring: Richard Armitage, James Callis, Alejandra Reynoso, Graham McTavish.

Seasons: 2 (12 episodes)

Rating: 4/5
In 1986, the game company Konami started a brand new game series that involved a bloodline of vampire hunters, and included their fight against the forces of Dracula. That series was Castlevania. 31 years later, in 2017, the series got a mature animated series on Netflix, which was little more than a pilot four episodes. Despite the shortness it left new and old fans waiting for a longer second season. Fittingly enough, the second season was released near Halloween.
In the fictional country of Wallachia in Europe in the fourteenth century, the legend of the great vampire Dracula has become just that, a legend. Now, he withers away in his large castle, until one day, a woman came to him asking for the advanced knowledge he possess in the effort to become a better doctor. The two eventually fall in love, having a child. However, when Dracula's wife is burned at the stake, being branded a witch for the new knowledge she had, Dracula furiously declares war on the people of Wallachia.
After the introduction to Dracula, we're eventually introduced to three quintessential characters. Trevor Belmont, the last heir belonging to the excommunicated monster hunting family of the Belmonts, travels the land in order survive. Initially, he is careless about the struggle to survive against Dracula's onslaught. Sypha Belnades, a talented spell caster from a nomadic tribe known as the Speakers, decides to join Belmont after the hunter shows a change of heart. Thirdly, the son of Dracula joins the two in a quest to avenge his father. The trio head off to put an end to the war between the creatures of the night and the populace. Despite the three leads being defined, Dracula is still very much a character with his own supporting cast, and it constantly switches between the three heroes and the villain. Despite being a vampire, usually looked upon as a devious monster, the show ironically succeeds in humanizing him.
Despite the rather grim setting, the incessant use of gore, and the great challenges set before them, there's still a great deal of humor, especially with how frequent swearing is heard. This is a mature show through-and-through.
While this is a video game adaptation of one of the older games in the series, it still effectively tells a story involving all the characters, and prior experience with the series isn't required to enjoy.