Recycle, compost, repeat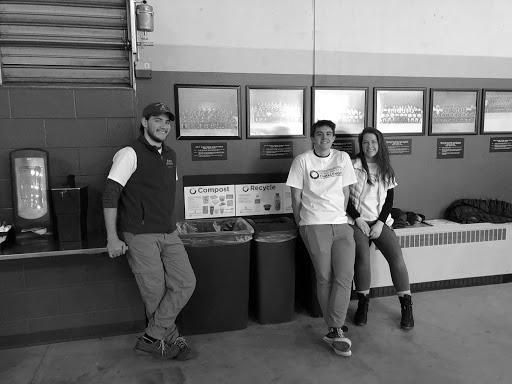 Third-annual Zero Waste hockey game occurs.
Pretzels. Nachos. Hotdogs. What would be a hockey game without the luxury of greasy, but tasty grub? At intermission, it's like a Times Square scramble just to get to the concession stand, but the wait proves its worth. The fizz in the cardboard-like cup fizzles just right, and the kernels sit perfectly buttered in a red and white striped box. As you guzzle your soda to wash away the salt, the clock chimes down. And when the zamboni loops around one last time, erasing the scratches and leaving only a glossy seam, it's time to hide the evidence and dispose the guilty indulgence at once before the ref throws down the puck. At most hockey games, there's no judge to decipher your trash. But at the Zero-Waste Challenge hockey game last Friday night, there were more than 30 volunteers standing guard to recycle and put that indulgence to better use in its afterlife.
The NMU vs. Bowling Green Men's hockey game at the Berry Events Center on Feb. 1 hosted the third Zero-Waste Challenge in an effort to reduce the amount of waste that is tossed into the landfill. NMU EcoReps—a sustainability organization—coordinated the event by having eight stations around the arena, manned by volunteers to organize audience's trash into three bins: recycling, composting and trash.
Last year's goal was five percent of waste designated for the landfill, this year the test was on to either maintain that percentage or reduce it, sophomore anthropology major and EcoReps student coordinator Isabelle Ureel said.
"We're hosting this event to show people that there are more options than just sending your waste to the landfill. There are more materials that can be reused in many different ways so you don't have to get rid of that. You can put it back in and take it out of the waste stream," Ureel said.
The hockey game was also a chance for the Marquette community to hear about EcoReps and what the organization is about, the initiatives it implements and what is to come, Ureel said. Between handing out EcoRep stickers and flyers of 10 ways to go green, the traffic at the main station by the concession stand was steadily flowing. Ureel said it was an interesting experience to educate the community about EcoReps and how to recycle, explaining, most of the time the organization only deals with students.
Seeing the organization take off in its full force is something to witness, said senior environmental science major and EcoReps co-coordinator Olivia Walcott. Since the first Zero-Waste Challenge game took place in 2017, Walcott has been involved from volunteering to joining the President's Sustainability Advisory Council to now overseeing EcoReps take off. This event is where EcoReps can really "act as EcoReps," Walcott said, adding, having a positive feedback from the interaction between community members and volunteers makes the experience that much more valuable.
"Education is important but also being a model for what the future looks like is also very important," Walcott said. "The biggest take away is how excited both students and community members are. The integration of Northern and the community is something that I've found to be really unique."
With the partnership of NMU Dining Services, the Sustainability Advisory Council and Marquette County Solid Waste Management, concession stands used compostable and recyclable materials. Each station sorted cardboard containers, compostable plates and popcorn boxes into compost bins. Whereas plastic containers from water bottles to aluminum cans fell into the recycle cans. The only items EcoReps could not recycle or compost were candy wrappers and chip bags.
However, a surprising element to this experience was the ability to recycle glass by going through the waste management in Eagle River, Wisconsin, because the landfill here in Marquette cannot support the volume of it, Walcott noted. Though this is the first year EcoReps is coordinating this event, the zero-waste games offer a "great example" as to what the organization could be doing, she added.
"If we had the power to always compost, this is what a lot of our events could look like. But also, this education is really, really important," Walcott said. "When you throw something away, it doesn't go away. It sits in a landfill for forever. Every piece of plastic we've ever produced is still on the Earth today which is obviously causing a problem that hasn't been really evident until now."
Senior and earth science major Cara Green and fellow EcoRep said that though this event was mandatory, she would have came out anyway to help support this event. As a representative to the organization, Green looks for new reps for the season and oversees the application process.
"I think that [EcoReps] is gonna take off and be a really big program at NMU. So it's really exciting to be part of the beginning of it," Green said. "I hope that with our future zero-waste events that people come for the purpose of it being zero-waste."
Around 30 volunteers came out for the first shift and then another 15 to 20 students helped finish out the game.