Unopposed ASNMU candidates debate, talk issues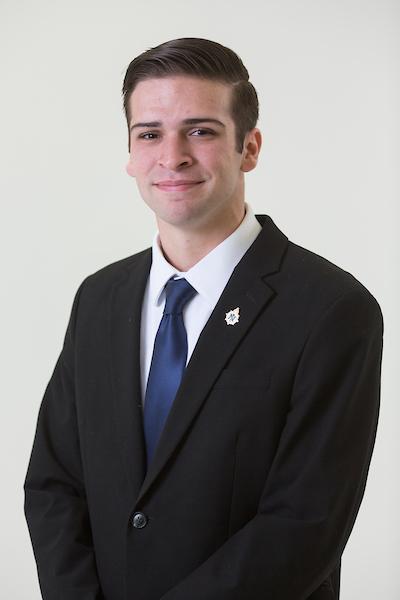 As the ASNMU election season approaches, ASNMU president and vice-president candidates engaged in a debate to discuss their future plans with ASNMU on March 27. The main points of discussion included personal strengths and leadership skills, hopes and priorities for the coming year and audience questions about student resources on campus.
Candidate for president and current ASNMU President Cody Mayer, junior economics and public administration major, and candidate for vice-president, current ASNMU Chair of Student Affairs Paige Pucelik, junior outdoor recreation and leadership major, are running unopposed in the election.
Since the candidates are running unopposed, the debate was led by two moderators, ASNMU Vice-President Connor Loftus and ASNMU Secretary Rebecca Short who posed questions for each of the candidates to further discuss.
The debate began with the candidates introducing themselves and since they are both current ASNMU members, discussing their success and areas of focus within the organization.
"In the past year I've worked on my main key areas," Mayer said. "I've been working on connecting NMU with the Marquette community, campus mental health, assisting our NMU veteran students and a handful of other issues."
Mayer said he is excited to continue his work with ASNMU and engage with the student community and make student government more accessible.
"The main thing I worked with was trying to build the Bike Share program and making it accessible for the future," Pucelik said. "I'm looking forward to serving next to Cody next year."
When asked about the most pressing issue ASNMU faced this year, Mayer discussed the Strategic Resource Allocation (SRA), which is a process to assess academic and support programs on campus, and the initial lack of student involvement.
"Students didn't know what [the SRA] was about and ASNMU kept students informed and engaged," Mayer said.
Moderators asked both candidates about the first two things they hope to accomplish in the coming year.
Pucelik said she hopes to get more students on the ASNMU general assembly and make it known to the general assembly that although she and Mayer are in leadership roles, they are there to help and support them.
Mayer said he hopes to send out a survey to the student body with 15 topics of interest to gauge what issues students want ASNMU to focus on and appoint more students to the Judicial Branch and Student Finance Committee (SFC), adding that his top priority will be to represent the students.
The floor was opened to audience questions and topics including SRA updates and student services updates.
Debate moderator Loftus asked the candidates about NMU's new Big Idea campaign and if they did not have any limits, what would be their Big Idea to benefit the NMU community. Pucelik said she would like to come up with a way to solve student parking problems and Mayer said he would like a building in a central location to house all student services such as ASNMU, RadioX, The North Wind and more.
Audience members raised questions about mental health resources and LGBTQ+ resources.
"A lot of students need mental health resources and the counseling centers are overworked and can't provide as many resources that are needed," Pucelik said. "I would like to see more of those resources on campus."
Mayer referenced a campus-wide survey sent out last semester to gauge student need and some changes that came from that need including 24-hour emergency services paid for by NMU President Fritz Erickson and the Dean of Students office paying for off-campus mental health services and providing transportation for students wait-listed at the counseling center.
After discussions with the president and vice-president candidates concluded, students running for other positions in ASNMU were invited to speak and candidate for the College of Arts and Sciences representative Logan Heart spoke about his hopes for his future with ASNMU. Logan said he hopes to be the first university in Michigan to implement free HIV/STD testing for students and more engagement with incoming students and student organizations.
Voting will take place online from April 1 to 3.
In addition to voting for leadership roles, the ballot will also feature three referendum questions, Loftus said.
"The election committee members make it a point to ensure the elections go smoothly and fairly so the students can trust the results and continue to have faith in their student government," Loftus said.
The three referendum questions include making election day an academic holiday, the recognition of Indigenous Peoples' Day, and a change in the ASNMU constitution that would allow advisers to swear in all ASNMU members.
Referendum questions are called by Mayer and get approved by the assembly. For a referendum question to be approved, three-fourths of the assembly must approve it.
Students should vote to let ASNMU know how much they care about how they're represented, Loftus said.
"Even though all the seats are uncontested, a high voter turnout lets us know students want to be engaged and a part of making changes on campus," he said.
ASNMU will be able to share students' opinions with the Board of Trustees in a much more meaningful way that is supported with numbers, Loftus added.
"I think the opportunity for ASNMU to get direct student input on the referendums is exciting," Loftus said. "This can help shape conversations with the school administration and help give ASNMU insight on how students view meaningful issues that are being discussed on campus."
ASNMU Academic Affairs Board member Richard Hamilton, representing the College of Business, anticipates a good voter turnout. Each email survey ASNMU has done had an increasingly higher amount of participants, which is encouraging, Hamilton said.
"I'm really excited to see some new faces on ASNMU," Hamilton said.