Pounding drums and feet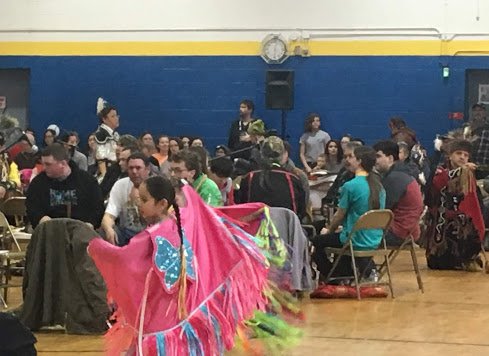 The 26th annual pow wow educates and honors
The Grand Entry dance commenced, hushing the chatter of onlookers perusing artisan booths at the room's edge. The jingling of traditional garb stilled. All who were able stood for the song and all eyes turned to the arena. Solemn veterans from the Keweenaw Bay Indian Community made a slow
procession around the inner circles of drummers, holding aloft fluttering flags and an eagle feather staff.
Marquette's 26th annual Learning to Walk Together Pow Wow opened to the pounding of drums on Saturday, March 30, at the Marquette Armory, as the subtle scent of sage smoke welcomed attendees and dancers alike. Before commencing any other celebrations, the event honored the stars and stripes of the American flag.
"We pay respect to the eagle feather flag," Marquette community member and emcee Joey Awonohopay said. "Nowhere else will you find our warriors honored as we do here."
Hosted by the Native American Student Association (NASA), the pow wow congregated several tribes, community members and university students alike. After the honoring of veterans, many dancers converged on the arena for inter-tribal dances. Elders in street clothes and intricate regalia circled joyously alongside small children, flapping rainbow shawls while orbiting the drummers and chanters. The event took up a joyous tone, and dancers of all ages and backgrounds circled in step together. Anyone was invited to join in, regardless of tribal affiliation. In the general seating, volunteers, families and students sat together, watching and nibbling on fry bread.
Several dances were devoted solely to young attendees learning the tradition. The Tiny Tots exhibition featured dancers up to age five, circling in step with older caretakers. Awonohopay encouraged people to have their children dance and be a part of the celebration. He expressed sadness that many traditional songs were unfamiliar to young people, but was pleased that many families with young children were in attendance.
"We really encourage our young ones to come on out and pursue a long life of singing and dancing," Awonohopay said.
The event served not only to preserve tradition within tribal communities, but also to educate students about those traditions.Former NMU student Michelle Reed and dancer with Woodland Sky Native American Dance Company said that any native event hosted in Marquette improves relationships between the tribes and community.
"This is an amazing opportunity for the community to learn more about the Native American culture and have a great day visiting with friends and families while watching the drumming, singing, dancing and also enjoying good food," NASA President Kristine Misegan said. "I believe it is a little less than last year, but I think it's a great turn-out."
Some traveled a far distance to attend Marquette's annual pow wow, including a youth group from Idaho. Additionally, Misegan thanked the 100 volunteers from the student population and general community who provided help.
"It's always a really good powwow," jewelry vendor Kris Matson said. "Look at the turn-out. It's great. They have a great turn-out every year. It's great for the community and people coming from all around the U.P. and other places."
After the first round of dances, the pow wow hosted a feast in the Jacobetti complex. Misegan accredited NMU's Chef Kibet with providing
tremendous help for the event to run smoothly.
"We recently relocated from Northern Michigan's campus, but we still get a lot of university help from different department heads," Miseagen said. "We still work with NMU a lot with their head staff and our feast."