'Under the Big Top:' Hospitality management students to host six-course Main Event dinner, fundraiser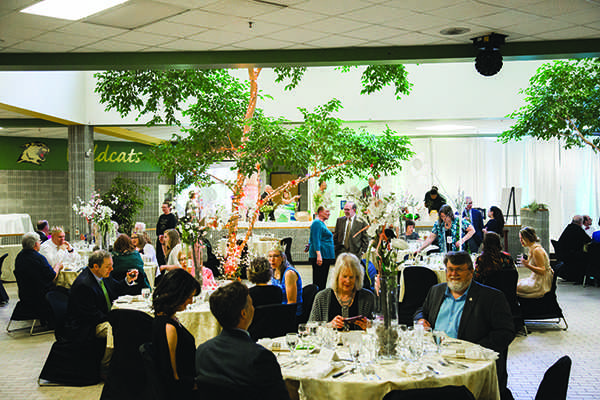 The NMU Foundation is bringing another annual Main Event dinner to campus, with this year's theme to be the circus. "Under the Big Top," a six-course dinner with live entertainment and plenty of alcohol, will be held in the Jacobetti Complex at 6 p.m. on Friday, April 19. Tickets were $100 and were sold until Wednesday, April 17.
Guests are encouraged to dress their best and prepare for "a dash of childhood sparkle" according to invitations, and the Marquette community is eager to sample the fruit of the NMU hospitality students' labors.
According to the event's menu, the six-course meal will include herbed goat cheese wonton, asparagus and beet spring salad, bay scallops and sweet potato puree, blackberry ginger sorbet, "Lamb Lollipops" and specially-prepared "Under the Big Top Cheesecake." Each course will be paired with selected wines.
The event is the last big event for the roughly 30-student Winter Hospitality and Tourism Management Program's Banquets and Catering course, taught by Professor Loganne Glendening.
The class has been preparing this event since they heard about it on the first day of the semester. The dinner was nearly conducted under a Viking theme this year, but students advocating the circus idea won after in-class debates and a decision-making panel of professors.
Rebecca Arakelian, a senior hospitality management major involved with the dinner's production, was grateful that many volunteers from other hospitality and management classes and Simply Superior bartenders will help as "extra hands" at the event.
"It's a fundraising event. That's the main point we're trying to get across," Arakelian said.
The dinner is conducted as a charity, with a silent auction featuring opportunities to win baskets from local businesses.
Of the cost of the ticket, $60 will go toward the Hospitality Management program's study abroad scholarship fund, and the remaining $40 will go back into the program to cover the budget for the event.
Arakelian is most excited to present the event's live entertainment to guests.
"To me, the coolest part will be our entertainment pieces, and we have carnival games and stuff like that which I think will be really fun," she said. "I don't think there's anywhere else in Marquette where you can get an experience like this."
There will be a body contortionist, a snake handler and other fun sideshows to enjoy while mingling during cocktail hour before the meal.
Arakelian volunteered at last year's "Alice in Wonderland" themed Main Event and considered it very good experience, despite an unexpected liquor fiasco.
"The big hiccup last year was they didn't get their liquor license, and they found that out the day of, so they couldn't serve any alcohol, which was really sad," she said. "It made a lot of people upset because they had already paid… We're trying to kind of redeem ourselves this year. We got [the liquor license] far in advance. We were not gonna let that happen again."
During this year's cocktail hour before the main dinner, the beverage team will present signature cocktails, including boozy snow cones, a ringmaster's margarita, a classy cotton candy martini, as well as a blood orange beer from Cheboygan Brewing Company.