With liberty and art for all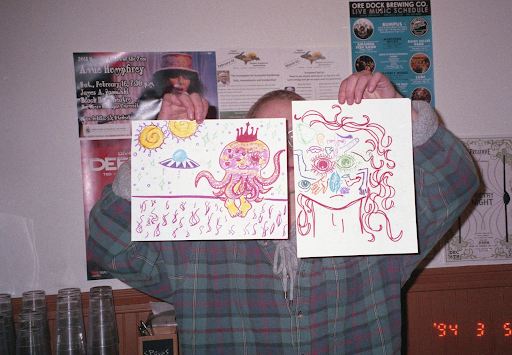 NMU student and local business owner collaborate to host Open Art Night
You go for a drive in Marquette and take it in. The ore dock stands powerfully in the shallows as the sun beams down on Lake Superior. The Superior Dome can be spotted in the distance from many places throughout town as you take in the crisp, clean U.P. air. You make your way downtown to Washington Street, a stretch filled with historic architecture. Although the impressive art of the historic buildings reigns strong, one thing seems to be missing: creative art.
Features such as murals and sculptures are "almost non-existent" to the streets of downtown Marquette, and to NMU junior and ecology student Grace Grimes, there is a reason for this.
"There is fear of the unknown. Introducing the community's art could be really amazing, but also nothing like this has happened before," Grimes said.
She noticed the need for individuals to be able to express themselves through their art in Marquette after hearing the story of Jeremy Johnson, an NMU graduate and owner of The Preserve. Grimes teamed up with Johnson in February to start the monthly event "Open Art Night."
After moving back to the U.P., Grimes explained that Johnson noticed a "big void of space" for people to create.With inspiration and help from Johnson, Grimes was able to rent out The Preserve, located on the corner of Fourth and Washington Streets, as a place for the community to get their creative juices flowing.
"I had a collaborative art night with a friend and thought 'I would love to have a bunch of people over to do this.' So I went to Jeremy with my idea and he was in. I got a big roll of paper, gathered colored pencils, yarn and a bunch of other odds and ends to create with," Grimes said.
Grimes was inspired by Johnson's desire to create unordinary art. After moving to New Mexico to pursue this idea, he wanted to replicate a permanent space where people could view creative art forms. Johnson gathered a team in Santa Fe and was able to convert a local bowling alley into a showroom for variety of unique and immersive arts, which included multimedia elements and mysterious narrative pieces. Although Grimes is an NMU student, she explained the difficulties getting access to the art building's facilities due to insurance policies and not being an art major.
"It's dependent on the professors, though people who do not have a way to connect with the professors and get those opportunities don't have space in Marquette to be creative artistically," Grimes said.
After hearing Johnson's success story and experiencing for herself the lack of resources available to her at NMU, Grimes said it was then she was inspired to make change and decided to do something about the lack of creative outlets for artists in the community.
"Part of what I was going for with Open Art Night is I noticed there is a fear for people to express themselves through art because they don't consider themselves artistic or label their creations as award-winning. It doesn't have to be though," Grimes said. "Art is supposed to be more of the process than it is the end product."
With kombucha and beer available for purchase, the laidback event is a chill space to create, connect and "just absorb all the good juju," Grimes explained.
Though small, Grimes hopes that this event can be a permanent space for Marquette's art scene to grow and communicate common goals, such as creating a community mural. The next Open Art Night will take place from 6 to 9 p.m. tonight and Grimes said she welcomes artists and creators of all
types to join in.