New dorms, dining, lounges highlight new year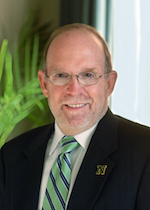 NMU President Fritz Erickson addressed the university's accomplishments of renovations and educational advances within the last few years last Wednesday at the 2019 Fall Convocation, and gave a future insight of what students have to look forward to this fall semester.
Changes to the university include the new residence halls, lounge spaces, dining facilities and the addition of trees and landscaping throughout campus. Over the summer, the university expanded the chemistry laboratory, with over $2 million spent on scientific equipment to help support the growing medicinal plant chemistry program, the first of the nation.
Other transformations included the upgrade to 22 teaching spaces in West Science, Thomas Fine Arts, McClintock and the PEIF. However, Erickson noted that the biggest milestone of the year would be the formerly known University Center, which has been renamed as the Northern Center.
"It has been great fun to see the reaction that we've had from parents and students throughout orientation and other events, [and] the reaction of our community to what this kind of facility means to the community," Erickson said.
Positive momentum continues with a 5% increase in retention rate, and this is important because it shows the commitment faculty and staff have toward students in helping them succeed, Erickson said. And the 18.7% enrollment increase since 2016 shows that things are looking very positive at the moment, he added.
"We've not been sitting back and waiting to see what the future brings. We've been modeling our future," Erickson said.
Other advancements include additions to academic programs and implementation of virtual-reality content for some courses.
Erickson hopes to continue these forums this semester with three forums on Oct. 8 with a focus on the Strategic Resource Allocation (SRA), a talk on the university's budget on Oct. 29 and a final discussion on Nov. 5, examining some of the innovative ideas the university is exploring.
Provost and Vice President of Academic Affairs Kerri Schuiling also highlighted accomplishments showcased by faculty and staff members. Chair of the Academic Senate Alec Lindsay spoke on the importance of the Senate and committees on campus.
"As we approach this academic year, I think we, on the Senate, have a lot of work to look forward to. We anticipate it's going to be a busy year, perhaps busier than usual," Lindsay said. "But I'm confident that in the Senate and those workhorse committees that power the Senate, we will get through this with rigor and alacrity."