New ticket experience for NMU students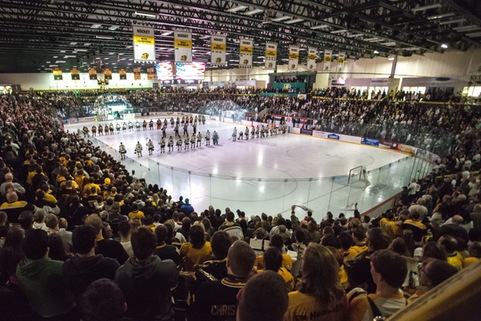 NMU has introduced a new ticket system for Men's Hockey games, beginning with the 2019-20 season. The new system gives students the opportunity to get tickets at noon every Sunday before each home game, and they can be obtained at any NMU ticket outlet, including the ticket website, tickets.nmu.edu by logging in with their credentials.
NMU Athletic Communications Manager Allen Dehority said that this process will be more smooth for students to get the seat that they want, and it will ensure that students will get their tickets.
"The biggest thing now is that students get the opportunity to pick your seat a little bit easier, in the past, you had to swipe in, and whoever showed up showed up," Dehority said. "But you were never really guaranteed that seat, with this way you go in Sunday and you can lock down your seat for both the Friday and Saturday games, so I think that's the biggest sell on it."
Another thing that is easier about the new process is that students can choose the e-ticket delivery option for their tickets, and they can have their mobile ticket scanned in at the gate for entry.
The other option for students is the $80 season ticket package, where for a small fee, students can purchase tickets for every home game in the same exact seat.
"The $80 package guarantees you your seat for the entire season, so you could do game-by-game where every Sunday you go in, and reserve those two seats for the Friday and Saturday night games," Dehority said. "But there's not a guarantee where you'll get those seats throughout the entire season. With the $80 package, you go in once and reserve that seat, and now you have that seat for the entire season."
Students are encouraged to order their tickets sooner rather than later due to the quantity being limited to the first 1,200. This new experience for students will officially begin on the Sunday, Oct. 4, before NMU takes its home ice for first time against the Michigan State Spartans on the Oct. 11-12 weekend.
For more information about this new process, or for other questions, contact the NMU Ticket Office at 906-227-1032 or at [email protected]