Netflix actress talks about issues with ICE, family separation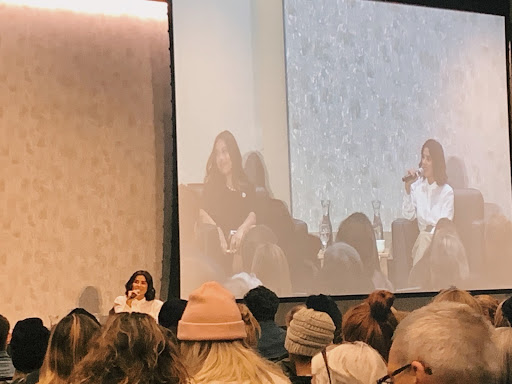 The community came together in the Northern Center Tuesday, Oct. 15 to welcome actress, author and advocate Diane Guerrero to NMU. Guerrero, known for her roles in "Orange Is the New Black," "Jane the Virgin," and for her book entitled "In the Country We Love: My Family Divided," which shared her personal story of losing her parents to Immigrant and Customs Enforcement (ICE). It also discusses her journey of activism: she is working to bring light to the injustice that plagues our immigration system today.
"It's one thing to read about our immigration system, but to actually hear someone tell their story: it makes this real," senior sociology major Eve McCowen said.
Throughout her book, Guerrero writes about the hardships and trauma deportation had on her mental health as an adolescent. Guerrero discussed the horror she experienced as she watched her mother and father be taken away in the ICE van, leaving her orphaned at the age of 14.
"There is a lot of shame with being a daughter of deported parents. It messed me up," Guerrero said. "I tried for a long time to not talk about it, but this affected my mental health."
Guerrero explained how she began to fall into depression, ultimately fearing taking her own life. She expressed for the Latinx community especially, the importance of mental health, considering the trauma and horror many undocumented people are facing and the heavy weight of secrecy they carry.
"I needed to find something that made me happy after that event, something that connected family, culture and connected me to myself," Guerrero said. "And that was the arts. It was my outlet."
Guerrero began to express herself through her acting. After moving to New York, she landed the role of Maritza Ramos on the Netflix Original, "Orange is the New Black." The show was freeing and meaningful to Guerrero as it tackled immigration, among many other social issues and injustices.
"The show was raw. It had the power to reach and educate the public, " Guerrero said.
This holds value to Guerrero, as she shared that from an early age she never fully comprehended what the immigration system was, it's history, or how it affected the people around her, until it directly affected her family.
"I never heard stories like mine," Guerrero said. "It's so important to share my story with the youth, so they can be educated on this system that is ripping families apart."
Guerrero also addressed that our current president's campaign stemmed on the "demonization of the Latinx community" is what jump started her into activism.
She began working to make change alongside the Immigrant Legal Resource Center—an organization specializing in providing legal services to immigrants—which taught Guerrero how to exercise her political voice and help represent the oftentimes misrepresented.
"I learned the importance of mobilizing my community to vote to elect representatives that are going to make decisions in their best interest," Guerrero said. "I hope to show people we come from a community that is hard working, also not perfect, but certainly not the demons some would have you believe."
This event was put together through the hard work and dedication of Platform Personalities, the Student Finance Committee and Gotham Artists, to educate the public of the adversities the Latinx community face in the immigration system today.