Australia deserves more awareness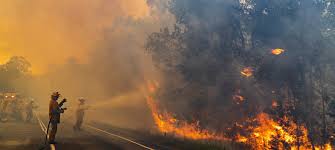 Flames first broke out in Australian in September 2019. In five months, irreversible change has occurred; one of the world's most biodiverse land has burned, an estimated 1 billion animals have been killed, at least 24 people have died and over 2,000 homes have been destroyed. If this isn't a climate wakeup call, what is?
I'm not here to hold a megaphone to Australia—that's what we have Greta Thunberg for. I'm here to point out that support for environmental issues follow a cyclical pattern based on its media coverage.
Coined in 1972 by Anthony Downs in an ecological paper titled "Up and Down with Ecology: The 'Issue-Attention' Cycle," he said due to American's fleeting advocacy for any single domestic issue, an "issue-attention cycle" ensues in a five-step process, which typically occur in the same order.
First: the pre-problem stage. Racism, poverty and malnutrition fall into the first stage because they are characterized by being an "undesirable social condition" that hasn't yet gained public awareness, Downs wrote.
Second: the alarmed discovery and euphoric enthusiasm stage. Eyes of the public are opened, horror ensues, followed by a brief period of optimism where solving the problem is conceivable. This optimism stems from the American ideal that any problem can be solved if we just work hard enough—without lifting a finger to restructure the society that initially caused the problem.
Third: realizing the cost of significant progress. A whole lot of money and sacrifice from large groups of the public would be necessary to change. Upon this realization, privileged groups are not willing to level the playing field.
Fourth: gradual decline of public interest. At this point, the cat is out of the bag and it's tearing up the public's luxury sofa. As the weight of solving the issue becomes heavier, people react in these three ways—discouraged, threatened, or bored.
Downs mentions that the public is now distracted by another issue that's in stage two.
Fifth: the post problem stage. The aforementioned new issue has now taken center stage while the original fades into the past. However, the programs and initiatives that emerged in optimistic stage two remain and continue to provide aid, like the Australian Red Cross.
With the fast-paced media cycle and the public's pressure to be constantly optimizing, it's no wonder attention for issues come and go like fast-fashion. However, any attention Australia receives is better than nothing—it's just a matter of maintaining public engagement.
News is largely viewed as entertainment, so it has to be dramatic and captivating to the audience. That's why issues that are presented in an alarmist fashion are destined to fade just as quickly as they appear.
Space in the news cycle is strictly limited and media organizations are pressured to cover the most pressing stories at the time—not provide a running commentary on one issue.
Nevertheless, we must always return to hope. Including the Australian organizations, the vast majority of funding has come from crowd-sourcing sites like gofundme.com. And, Australian comedian and actor Celeste Barber has used her platform to raise more than $32 million.
Essentially, the Australian wildfires need to stay in stage two for as long as possible.