Seasonal ricing doubles as meditative, cultural experience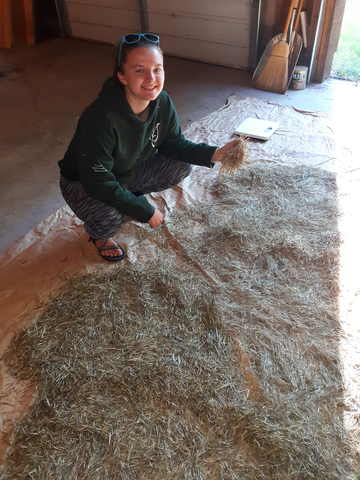 Autumn to most students means apple cider, pumpkin spice, crisp breezes, remnants of fading summer and a return to school. For others, it is a time of harvest. Ricing is the act of canoeing or boating into an area where wild rice grows, pulling the plant over the canoe, and whacking it with cedar sticks to knock the rice out.
Ricing has cultural significance in the Anishnaabe and Ojibwa tribes and has served to feed many families according to sophomore environmental studies major Erin Matula. While not being a member of a Native American tribe, Matula has worked with her family to harvest the wild rice for many seasons. 
Matula has been ricing since she was a child. Her family went ricing three to four times a year during the fall, when the wild rice is ready to be harvested, but has only recently begun getting back into it since her parents are now retiring, according to Matula.
"Usually you have a couple of people in a canoe on the lake. You have these cedar sticks and you bend it over into the canoe and knock 'em off and the rice just falls into the canoe. After you harvest what amount you want — we had 8 pounds last we went out, which was a lot with how little rice there was. My family passes it on to someone else to finish the process. We've gone to a cultural event where we parched and pounded and winded the rice," Matula said.
While the cultural aspects are significant, Matula has come to appreciate the serenity of being on the water and the zen nature of the process.
"The experience of knocking the rice specifically is really meditative. Being out here with a slight breeze and slight heat is a great feeling, especially because I was able to meet up with my parents again outside of college, and it was a great relaxing and meditative process," Matula said.
COVID-19 has only had a slight effect on ricing. Matula claimed to see significantly fewer people on the water, and when they did spot people they were sure to keep their distance.
"We went when there weren't as many people. When we did have interactions with other people going out and coming in [the lake] we would mainly just time it, let them go ahead and go out or just wait a little bit for ourselves so we didn't get too close," Matula said.
As an environmental studies major, Matula believes that ricing has opened her mind to career paths other students may not consider.
"Having these experiences compared to other people in my major, they don't see the whole picture of all the opportunities or careers that we could have. I was just talking to one of the [Great Lakes Indian Fish & Wildlife Commission (GLIFWC)] wardens and how these experiences open up a whole new realm of possibilities for my major," Matula said.
Ricing allows partakers to immerse themselves into a culture outside of their own, Matula believes that it is something many should experience.
"I would definitely recommend it. It might be a little tricky to figure out because of the wild ricing license and I'm not sure if this is true everywhere, but you have to get a license for the state you permanently reside in," Matula said. "If there was some way to give students the opportunity or any club with northern the opportunity, maybe if the state thing was waved for that specific time period. I would definitely recommend students to explore this, either with GLIFWC or any other organization and relate it to their major to see all potential ways of life and career opportunities."
For more information on ricing, visit http://glifwc.org/.