NMU alumni and owner of the Bodega shares experience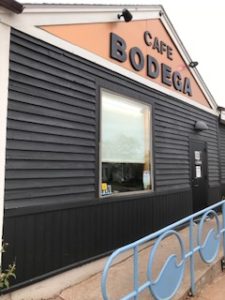 Marquette is a hub for business in the U.P. It is a place where many graduates of NMU choose to start their business. The amount of NMU alumni business owners in Marquette is actually quite surprising. Casa Calabria, Boomerang Retro and Relics and Barrel + Beam are all run by NMU alumni.
This week I met with Libby Nelson who graduated from NMU in 2005. She is the owner of the Bodega, a restaurant and bar that stands on the former school grounds of the Third Street school back in 1884, according to cafebodegamqt.com. Nelson graduated as an art education and ceramics major and also teaches at ashton ridge middle school in Ishpeming. Nelson shares how her degree and previous work experience contributed to the founding of the Bodega.
"I was in the foodservice industry in highschool and through college. Owning a business is a creative endeavour and so my studies in the art ed department helped contribute to the skills I eventually applied to starting a business," Nelson said. "This is really a moment of self reflection here. Interpersonal skills, working with others, being able to respond to challenges in a dynamic way, being able to synthesize various parts into a cohesive whole. Can you tell I'm an art major?"
Nelson continued to stress that running a business is not all about finances. In fact, learning to communicate effectively and grow as a staff are integral to success, and not only monetary success, but success in life as a whole.
"I keep saying growth but i mean really it is, it all just hopefully leads to personal growth, growth of the business, and then your staff that's with you. For me, my role here is teaching. I think owning a business and teaching are privileges and it's an opportunity for me to connect to people among many other things, I hope that in regards to my staff no matter how long or how short their time here is with us that they are able to pull something of value for their personal growth and maybe that lesson isn't apparent right away but down the line," Nelson said.
In terms of Covid-19 Nelson has had issues with staff shortages. The strict protocols put in place have also made it difficult to receive restocks on beer, wine and liquor, according to Nelson. Navigating the unemployment procedures was stressful and difficult in the beginning, according to Nelson.
It may not be the best time in history to start a business due to Covid-19, but Nelson offers some advice for young entrepreneurs graduating from NMU.
"I think you need to follow your passion and do your homework! As best you can go into that endeavor eyes wide open by doing that homework and that research. I think you need to listen to yourself, there's probably going to be a number of people that want to talk you out of something, and well meaning people that care about you and love you, but if it's a passion project for you then you need to listen to that," Nelson said. "Surround yourself with good people and try to connect with good people. Making connections with some really really good people who cared and believed in me made this possible and there was no way this was solely up to me. Surrounding yourself and connecting with good people is really important; people you can get advice from and can be honest with you while at the same time being somewhat of a cheerleader of sorts for you."
Nelson also recommends students read The Surrender Experiment by Michael Singer. This book is not a book on business, but a rhetoric on personal growth.
"Owning a business can be very rewarding, as deep as the challenges can be are the peaks of the rewards from it, and I'm not talking financial, but um, again on a personal level, so there's a lot of abundance to be found in starting your own business and I think it's important to remember abundance doesn't always come in the form of money. Keep that in mind for any young entrepreneurs," Nelson said.