Virtual tour of Jim Crow Museum to be held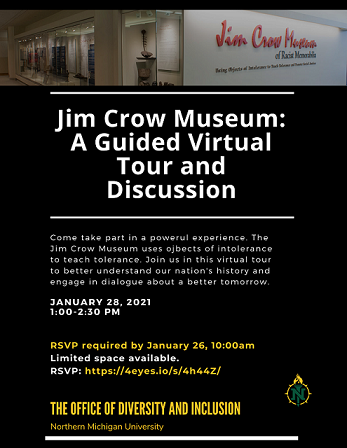 The Office of Diversity and Inclusion will host a virtual event next week aimed at increasing student awareness of the legacy of racism in the United States. On Thursday, Jan. 28 the office will hold a guided virtual tour and discussion of the Jim Crow Museum.
The event will last from 1:00 p.m. to 2:30 p.m. Although the event is free, RSVP is required for attendees, as space is limited. Potential attendees must register online by Jan. 26 at 10 a.m. Those interested can RSVP here.
"The Jim Crow Museum uses objects of intolerance to teach tolerance. Join us in this virtual tour to better understand our nation's history and engage in dialogue about a better tomorrow," according to the NMU event calendar.
The Jim Crow Museum of Racist Memorabilia is an organization within Ferris State University.
"From Aunt Jemima advertisements to the board game Ghettopoly, American popular culture is replete with racist images," according to the museum website. "The Jim Crow Museum of Racist Memorabilia features an extensive collection of racist objects that trace the history of the stereotyping of African Americans."
This event comes in a world which became violently aware of the brutality still practiced against black citizens, with the deaths of Breonna Taylor and many others. After many decades of slow progress towards equality, organizations such as Black Lives Matter and individual activists still continue to rally against racism in the nation.