Indoor Agriculture receives $100,000 grant from MDARD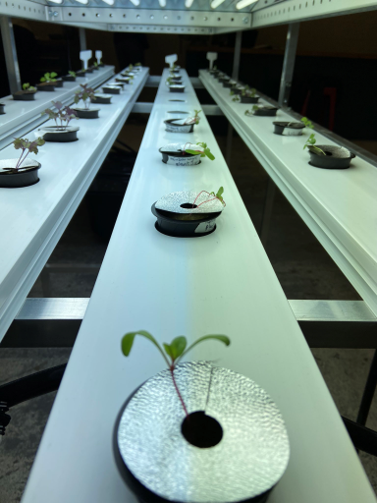 NMU's new indoor agriculture program recently received a $100,000 grant on Feb. 12 from Michigan's Department of Agriculture and Rural Development to help offset the costs for a self-contained growing center.
According to MDARD's page, the grants are to help "promote the sustainability of land-based industries and support infrastructure that benefits rural communities".
MDARD received over 139 proposals, totaling over $11 million. The program only accepted 20 proposals, which totaled to roughly $1.7 million. This included NMU's proposal for a self-contained growing center.
The indoor agriculture program is a new major brought to NMU which focuses on hands-on learning of indoor agriculture, sustainable farming practices, urban farming models, environmental infrastructure systems, helping solve the global food crisis and more.
Last fall was the first semester that the program took off.
"One of the biggest challenges of growing a program is finding space, and even though there is some available around campus, and in the Jacobetti Center in particular, it still costs a lot of money to retrofit that space and make it usable for the intended purpose." Evan Lucas, assistant professor of technology and occupational sciences, said. "We targeted this grant specifically to help alleviate the cost impact of adding space for our labs."
Lucas went on by saying that the program submitted the idea of purchasing one to two shipping containers to enhance the curriculum. The shipping containers, depending on size and capability would be used to add growing space and diversity the type of growing space.
The program hopes that with the grant money they will be able to grow, and in turn create more space for students to work. Sarah Cormier, a junior in the indoor agriculture program, has exciting hopes for the grant money.
"I'd hope it'd encourage others to look into the program and think about food production differently," said Cormier. "We are limited in our labs with the number of seedlings we can tend to, but with more systems we would be able to monitor more plants simultaneously."
In turn, having more space means having room for more students. After quick shutdowns and pack-up times, last semester was hard for the program. However, Cormier felt that the experience this semester has been more straightforward.
With the COVID-19 pandemic, the program had to cut back on the amount of students able to register. This left many students on waiting lists, unable to participate in the brand new program.
"We were unfortunately not able to open up more than we did without sacrificing the hands-on aspect of growing, which we weren't really willing to do as that kind of defeats the main purpose," Lucas stated.
However, Lucas was quick to say how integral Kim Smith Kolosa, another assistant professor of technology and occupational sciences, was to the program.
"She has done an amazing job taking this program from literally non-existent to exceptional in no time, and we couldn't ask for anything better at this time," Lucas said.