TLC on trails, an underappreciated necessity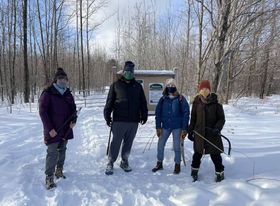 It is no secret Marquette is home to extensive trail systems and a crowd that loves to be on them. The city is surrounded by trails designed for mountain biking, hiking, snowshoeing, cross country skiing and other activities, with multiple separate organizations keeping them in shape.
The Upper Peninsula Land Conservancy offers many trails, some of which are managed by the NMU Conservation Crew. Tory's Woods and the Vielmetti-Peters preserve have both been adopted by the group, sophomore environmental studies and sustainability major, and co-leader of the Conservation Crew, Jane Fitkin said.
"We go out to each of those preserves once a month and do some trail maintenance, whether it's doing corridor work, lopping down branches and trees or raking leaves off the trail or just snowshoeing to pack the snow down just to make those trials make accessible," Fitkin said.
Clearing paths for others to explore is important, as it diverts people from continuing to trammel the surrounding wilderness. Keeping up with the trails doesn't require a unique set of skills or much training, but a passion for the outdoors does help.
"It's pretty easy to learn how to do trail maintenance, there aren't many tools involved. The main one is loppers which is basically a large set of pruning shears. When we have new members who come we just show them, make sure they're not pointing the blade at anyone else," FItkin said.
The UPLC is led by Executive Director, NMU alumnus in outdoor recreation and leadership management, Andrea Denham. It spans across "a total of 6,264 acres of land in 12 counties across the U.P.," Denham said. "About half the lands we protect are 'Conservation Easements,' which are private lands that are protected forever through a legal agreement while allowing the landowner to continue to utilize the property in a manner consistent with the goal of protecting the natural features of the property.
The UPLC works with the landowners to ensure the area is never polluted, damaged and maintains biodiversity, Denham said. Half of the land they manage is nature preserves and forests. These lands are part of the UPLC's Forests for the Future program, preserved permanently for community benefit.
"The effects of global climate change are here and will be increasingly felt across the peninsula. We're being proactive about ensuring that our lands continue to provide ecosystem services for current and future generations." Denham said. "Many of our forests for the future lands were acquired and are managed for this purpose. Tory's Woods Nature Preserve is an important nesting bird habitat and wildlife corridor along the Sand River and Lake Superior."
Denham's passion for conservation came to her as a teenager in Minnesota on the Superior hiking trail. The trail was riddled with rerouting, portions on private land, some allowing the trail, others not and eventually blending into state and federal land. The complexities involved in allowing the trail to exist were extensive, and without partners protecting the trail, Denham realized there may not be a trail at all.
"Can you imagine coming back to the U.P. in 10 years after graduating? Hiking the NCT and weaving in and out through people's yards instead of through beaches, around industrial buildings instead of red pines and boulder glades, without the sound of the wind through the white pines as you hike? Land conservation and outdoor recreation are inextricably tied," Denham said.
Recreation in the U.P. is fortunate to have the support of many partners working together who prioritize nature, Denham said. For students, there are many opportunities at the UPLC. Between volunteer work and a student board position, getting involved in conservation efforts is made feasible by the conservancy.
"We are here for the sake of the community, and that includes you. There are many ways to get involved with UPLC, from just enjoying hiking the trails to helping out with a special project to joining the Board as a student advisor. If you have a hands-on project in mind for a class or student group, give us a shout and let's see if we can work together," Denham said
Students interested in the UPLC, or the Conservation Crew need not be intimidated. The Conservation Crew is very open to new members and has no requirements for majors or experience.
"You may have never been on the trails and you can come and join. We just want anyone to be a part of it who wants to be outside and help," Fitkin said.
The Conservation Crew can be found on Instagram @nmuconsevationcrew, or on their NMU Hub page. For more information on the UPLC visit their website or @UPLandconservancy on social media. Denham also urges students to #recreateresponsibly, and pay attention to the rules before entering a trail.
"Making the trails cleaner and more accessible will hopefully get more people out to the trails. It helps people get out into nature and hopefully caring about the environment so they think twice the next time they see a plastic straw or cigarette on the ground. I think trail maintenance is really an important thing for anybody who likes to get outdoors, it's giving back," Fitkin said.