Opinion—Upload your vaccine cards for an accurate count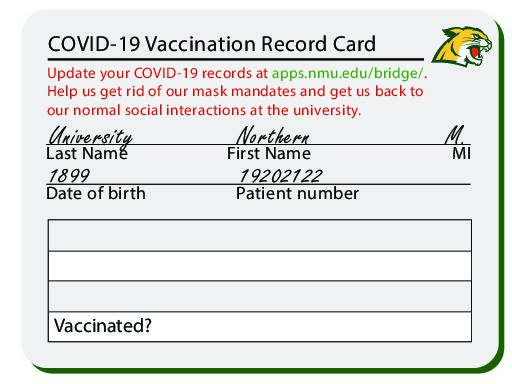 This semester promises to be leagues better than the past three. With some mask requirements lifted and social interaction possible, we are sure to experience significantly less isolation. I'd certainly like to preserve these gains, so I encourage my peers if you haven't already done so, to upload a completed COVID-19 vaccine card for NMU's records.
We're starting out on a positive note: in-person social events such as Fall Fest and the Honors Ice Cream Social are back (I think we would all be frustrated if they have to be canceled due to further COVID-19 concerns).
President Fritz Erickson even outlined "new focus areas, outcomes and post-pandemic priority initiatives added to the NMU strategic plan during a revision earlier this year" according to an NMU press release.
These strategic goals, including a "Collaborative Sustainability Initiative" and "Reimagine Equity and Inclusion" sound great, but it seems likely that they will only be possible if we really have entered a post-pandemic world.
Even with the looming threat of the delta variant, perhaps we can cling to some semblance of normalcy if our university has accurate counts of who's been vaccinated. Or, if not enough people are vaccinated after all, perhaps there would need to be further incentives. Already, NMU has incentivized uploading vaccine records by providing a $100 dining credit for those who provide documentation on the Bridge app.
Erickson recently let students know that the deadline for receiving this reward will be the end of September.
"This information continues to be critical to Northern campus leaders as we make decisions about the semester," Erickson said in an August 17 campus-wide email. "So many of you have emailed me to say you're still in the process of being vaccinated, either waiting for your second shot or having signed up to be vaccinated at Passport to Campus. I am so happy that you are getting vaccinated I'm more than willing to extend the deadline."
If you want to take advantage of the extended deadline, upload front and back pictures of your COVID-19 vaccine card on the Bridge.
According to the campus-wide email, NMU sits at a 74% vaccination rate, including anticipated late orientation uploads and scheduled Passport to Campus vaccinations. This number is higher than the state of Michigan's January goal of having at least 70% by the end of 2021 and is something to be proud of as a community. 
Yet perhaps more of us have been vaccinated but have not yet documented this with the university. I simply want to encourage my peers to be sure to upload any documentation so that our university has all the information needed to make crucial decisions for the success of our new school year. 
With growing concerns about the Delta variant of the COVID-19 virus, it is likely that there will be at least a few hiccups this year. The delta variant is currently the most common strain of COVID-19 in the United States, according to the CDC. It has been shown that this variant can be transmitted to people who have been vaccinated, however, vaccinated people seem to be contagious for less time, and become sick with the delta variant less often.
The CDC advises that "Unvaccinated people remain the greatest concern," and "[the] CDC is continuing to assess data on whether fully vaccinated people with asymptomatic breakthrough infections can transmit. However, the greatest risk of transmission is among unvaccinated people who are much more likely to contract, and therefore transmit the virus."
There are key differences in how the delta variant impacts people who are vaccinated or unvaccinated, so accurate information is key to responding appropriately. As we've all heard countless times during the pandemic, we must protect our community and remain safe. This stays true today, even while we strive for a post-pandemic world.