Anishinaabemowin Certificate Program brings Native language to classrooms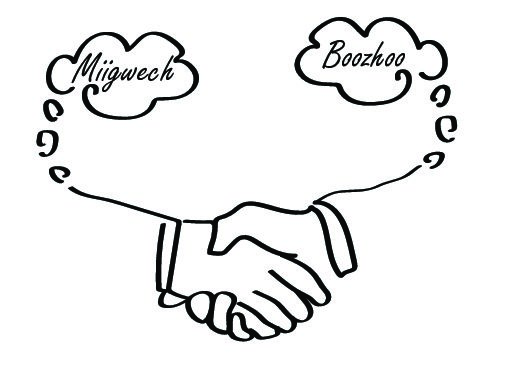 In June of 2021, Northern Michigan University, in partnership with Bay Mills Community College, received approval by the Michigan Department of Education for an Anishinaabemowin teaching certification program.
The certificate is designed to prepare K-12 teachers in Anishinaabemowin language and culture to incorporate into the classroom. Students in the program can take one of two routes to fulfill the 33 credit Professional Studies Sequence. They can begin with the Pane language program at Bay Mills and transfer to NMU's School of Education, Leadership and Public Service for their remaining teacher education courses, or they can take Anishinaabe language courses through NMU's Center for Native American Studies while working towards their teaching requirements.
"Folks who would really benefit from this are of course teachers, Native and non-Native, but also anyone who would like to get involved with travel government, Indian affairs, anything like that," Amber Morseau, director for Northern Michigan University's Center for Native American Studies, said since the program provides the foundation and background to better understand Anishinaabe language and culture.
Bay Mills Community College has been identified as a leader in the Anishinaabemowin language. Their language immersion program is one of the most successful in the state of Michigan due to their significant Native community.
"Our communities have the autonomy to tell us what they need, and BMCC has made this a priority. They have taken the needs of what their community is looking for and they addressed it," said Morseau. The Ojibwe language is considered an endangered language, so the certification program is a way of reconnecting to and maintaining Indigenous culture.
This is the first and only state of Michigan-certified Anishinaabe certification program. Morseau stated that Indian country is holding a spotlight right now in response to boarding school excavations, impacting governmental policies and practices, and now education. Morseau, once an Indigenous student herself, stated that incorporating Anishinaabe language into the classroom will help Native students feel more connected to who they are. "For us not to see ourselves in public education furthers the erasure because we don't have that community," Morseau said. "By placing our language in the school, you are actively creating a space for those students to feel seen and heard."
Understanding the language is an important part of understanding the Anishinaabe culture. In her book "Braiding Sweetgrass," Robin Wall Kimmerer describes Anishinaabemowin as "the grammar of animacy," meaning that many nouns in English translate as verbs in the Native tongue, extending life to objects otherwise deemed inanimate. The word wiikwegamaa translates to "to be a bay." How can a bay be? Kimmerer said, "A bay is a noun only if water is dead. When bay is a noun, it is defined by humans, trapped between its shores and contained by the world" (p. 55).
Through assimilation, Native peoples were confined much like the bay. Morseau said, "The words are not just the words. It's a whole emotional background and connection to the language that makes meaning," and incorporating that into school systems will aid in releasing the barriers put up by Western society.
"As we start to gain some momentum, folks are going to really recognize that there is a space needed in education for Indigenous identity, and one of the ways to do that is through the language," Morseau said.
Morseau believes that the candidates for the program—those who ask critical questions, make demands of what is needed in the classroom, and take a stand on critical issues—will implement societal change for the benefit of Indigenous peoples. She is hoping the program will be available for enrollment in the winter semester of 2021.