Marching band prepares for homecoming game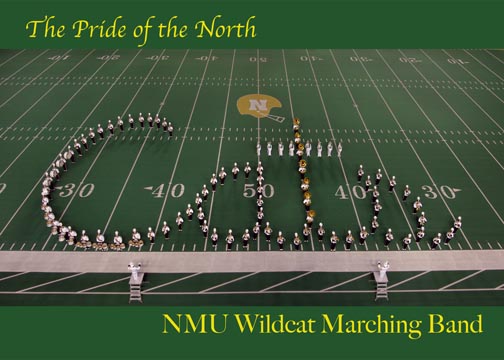 For Joe Sturm, senior alto saxophone player and president of the marching band, this year's homecoming will be his last. He will march into the Superior Dome on Oct. 2 to play his last homecoming halftime show and march Script 'Cats with his bandmates for the final time.
"The hardest part of halftime for me would have to be that it is my last one," Sturm said. "This band is very important to me and it is hard not to become wistful as I continue to rack up my 'lasts' for this season."
While 2021 marks Sturm's last homecoming game at NMU, over half the marching band has never had the opportunity to play at a football game before, due to COVID-19. 
"This year it's kind of interesting because our sophomores didn't have any football," junior alto saxophone player Michael Sobeck said. "When we went to our first game, all the juniors and seniors were like 'yeah, let's start this up' and everybody else in the band was like 'what are we doing?' So we have kind of been flash teaching … we've been having to take some leeway so that they can figure things out to continue the traditions."
The returning upperclassmen have played a large role in helping the freshman and sophomore players understand even the most simple traditions, such as where to sit in the stands during the home football games. However, one of the biggest traditions they will be able to participate in this year is the formation of Script 'Cats. 
Band director Stephen Grugin started the Script 'Cats tradition after he started teaching at Northern 25 years ago. He got the idea while playing in his college marching band at Ohio State University when he and his band would march onto the field and arrange themselves to spell out the word "Ohio" in a script font. He translated this type of march formation to NMU and now the band will spell out "Cats" at the end of their homecoming halftime show every year. 
"It seems on the surface like 'cool, they spelled cats,' but to the band, it just feels bigger to us," Sobeck said. "I don't know how to put it into words, but it definitely has a bigger meaning to us because we are the Pride of the North. This is what we do, this is how we show that we support NMU and how we're proud to be Northern students."
The band spells out Cats while playing "March Grandioso," a very upbeat and repetitive song that creates a good backdrop for the movement of the march. The drum major will lead the procession across the field and help direct every player into their assigned spot.
"Like much of what we do in the marching band, Script 'Cats is steeped in tradition. It certainly outlives any current member of the band," Sturm said. "It is very difficult to march–on par with some of the 'top' Division I collegiate marching bands, including the University of Michigan and Ohio State University marching bands." 
Every four years, the alumni band will return for NMU's homecoming game and play with the marching band at halftime. When enough alumni join in the formation of Script 'Cats, the band can extend their spelling to Script Wildcats. 
"We have the alumni join us every four years, but we might do it sooner this time coming up," Grugin said. "We might do it next year since last time the alumni were here it was 2019."
Grugin plans out a new design of the Script Cats formation every year due to the changing number of band members. After he draws out the design and plans specific locations for each player, the drum major will take the sketch and translate it onto the field. 
"So she's going to get out there and she's going to put chalk marks on the practice field," Grugin said. "We do it every year, but every year, it's a little different, because the size of bands are different."
The marching band will be playing three other songs as part of their classic rock-themed halftime show. They will be performing renditions of "25 or 6 to 4" by Chicago, "Carry on Wayward Son" by Candace and "24K Magic" by Bruno Mars.
On top of learning the drill formation for Script 'Cats, they will also have different formations for their other pieces. The drill for "25 or 6 to 4" is one that Grugin is particularly looking forward to.
"It's called a step-two drill and it's something they really love doing," Grugin said. "The end result visually is like kaleidoscopic pictures in motion."
The marching band will be playing a pregame show as well starting 20 minutes before the football game. Since they need to be in the Superior Dome by 3:15 p.m. in order to prepare for the game, they will most likely not participate in the homecoming parade this year.
"We're actually not sure we're going to do the parade because the timing is right before the football game," Grugin said. "The other thing is that homecoming, or any parade, is really physically demanding on the band members, especially for the sousaphones and the drums. We have had a lot of students injured during the parade."
Even though the band will not be in the parade, they will be playing around campus during homecoming weekend as much as possible. They have talked about playing at the pre-parade party and alumni tailgate on Oct. 1 and 2. 
Other events in the homecoming weekend that other students can attend include Dead River Games at Clark Lambros Park on Sept. 26, the Sidewalk Chalk Contest in the Academic Mall on Sept. 28, and the football game against Wayne State on Oct. 2. For more information about homecoming events, visit the Hub.
"We will be busy and we will try to reach as many people as we can," Grugin said. "Help spread the Wildcat spirit."
After a year of only playing during a few recorded performances, the entire marching band is ready to get back out into the community and spread NMU pride during Homecoming week.
"The band is most stoked about performing at the game," Sturm said. "There is nothing like taking the field for pregame on homecoming, and we are ready to keep the energy up throughout the game, especially during our halftime show."