NMU hockey announcing legend Tim McIntosh passes away at 74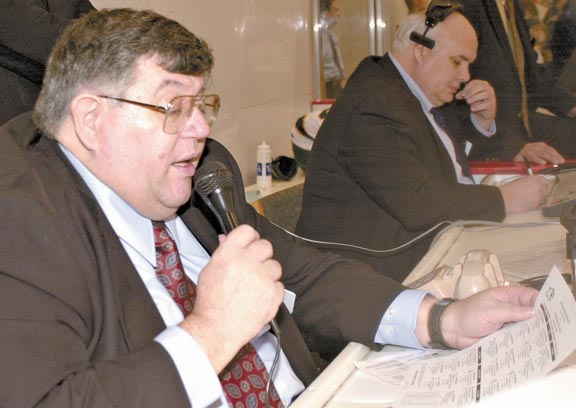 Tim "Mac" McIntosh, the former public address voice of NMU hockey and long-time Director of Marquette Junior Hockey, passed away Wednesday at the age of 74.
McIntosh was the voice of Wildcats' hockey for 44 years from the program's inaugural season in 1976 until retiring in January due to health issues. He also ran Marquette Junior Hockey for 47 years until his retirement in October 2019. 
"We are saddened to learn of the passing of legendary NMU Hockey announcer and longtime friend of the program, Tim 'Mac' McIntosh, NMU Men's Hockey said on Twitter. "Our thoughts are with his family and friends."
"Wildcat GOOOOAAL!! Wildcat and Marquette hockey is forever impacted by Mac's influence," NMU coach Grant Potulny tweeted in response. "He was simply the best."
McIntosh was also on the Parks and Rec Advisory Board as an ambassador for Marquette hockey, Lakeview Arena said on Facebook.
"A very sad day for the Marquette hockey community as one of the great supporters has passed away," Friends of Lakeview Arena shared on Facebook. Tim "Mac" McIntosh was the voice of NMU Hockey and the Director of Marquette Junior Hockey for many years. He will be greatly missed."
In the first weekend of games since McIntosh's passing, the Wildcats will host Bemidji State in a conference match-up at 6:37 p.m. on both Friday, Oct. 22 and Saturday, Oct. 23. Before Friday's game, there will be a moment of silence for the historical voice of Northern hockey.