CNAS hosts Valentine's Day beading circle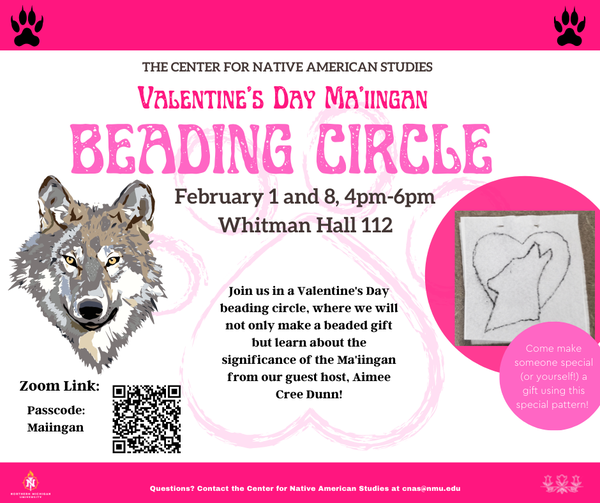 Valentine's Day arrives in the midst of the wolf, or ma'iingan in Anishinaabemowin, courtship and mating season which is significant for a number of reasons. Not only do wolves form lifelong bonds with their mate and raise their young in multigenerational families, but the holiday of St. Valentine's Day is likely a religious and human-centric version of a similar 'holiday' celebrating animal courtship, according to Native American studies professor, Aimee Cree Dunn.
"I suspect Valentine's Day … is actually a Christian appropriation of a European tribal holiday that celebrated the courtship season of the wolf and other northern birds and mammals," said Dunn. "For me, celebrating this courtship season of the wolf with a beading circle around Valentine's Day is a way of uniting the deep understandings of Ma'iingan that the Anishinaabeg have from living 1000s of years in the northern forests with a contemporary holiday that comes from the settler society."
The Center for Native American Studies will be celebrating ma'iingan courtship season and Valentine's Day this year with a two day beading circle. Interested participants will receive a pre-made beading kit and can join the first session virtually or in-person on Feb. 1 from 4 to 6 p.m. The event will start off with an introduction to the flat stitch project and the significance of beading in Anishinaabe culture. 
On Feb. 8, participants will continue to work on their projects and also have the opportunity to learn more about ma'iingan from Dunn. To register for the event and receive a beading kit, contact the Center for Native American Studies at [email protected].
"This event was created as a community building and learning experience. Beading circles offer a space to convene and share within a small group to create something meaningful," Amber Morseau, director of the Center for Native American Studies, said. "With this Valentine's Day theme we hope folx will be delighted with the craft skills they will learn as well as the connection this day has with our Wolf relative."
This emphasis on wolves is important during this time of year as well due to the start of wolf hunting season in Wisconsin. Wolf hunting in Wisconsin corresponds to their mating season which disrupts the wolf mating patterns and harms their population. 
"Wolves have faced wave ups and downs in the past century. Wolves have bounced on and off of the endangered species list and are again under threat with new hunting regulations," Morseau said. "Disrupting these patterns doesn't allow for appropriate repopulation of the wolf and allows for other species to overpopulate without the wolf's presence."
Dunn hopes this beading circle can not only provide participants with a way to express their creativity and love, but will also provide some healing for the people and ma'iingan involved.
"Last year, ma'iingan's mating season was one of tragedy in the northern Great Lakes area," Dunn said. "This year can be a year of recovery and healing both within the Ma'iingan Nation and within the Anishinaabe and other human communities who experienced deep grief at what happened to this much beloved relative."