Honoring influential women from Northern's history – Ethel Carey, Judi Bailey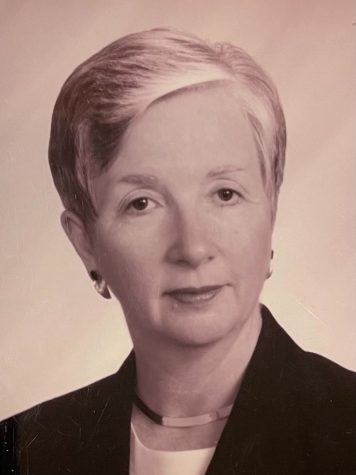 As March is Women's History Month, it is an appropriate time to honor historically influential women at NMU whose names are not frequently mentioned. 
Northern has developed to what it is today through the passion, care and inspiration from female faculty throughout the years. As NMU has grown and evolved with more departments and students, women have assumed leadership positions and influenced campus.
Ethel G. Carey and Judi Bailey are two women who held important authoritative roles at NMU and deserve recognition. 
Ethel Carey served as dean of women at Northern from 1924-1956. Before her time at NMU, she received an honorary doctor of laws degree from Alma College in 1953, teaching at Fenton and Harbor Spring high schools as well as Central Michigan University. 
In her eulogy, Northern faculty member Luther West said that Carey came to NMU at a time when the majority of students were female and the most popular program was grade school teaching. As dean of women, Carey had an active role in supervising female students and ensuring their wellbeing. She was also chairman of both the social and student affairs committees, seeing that students were comfortable in their time outside of the classroom. 
While working at NMU, Carey often proposed the building of a dormitory on campus because she was concerned for the "many students who lived throughout [Marquette] in isolated rooms, not always well-heated, well-lighted or well-furnished." In 1948, after many fund failures and postponements, the Ethel G. Carey residence hall was built, becoming the first on campus. Over time this building became vacant and was demolished in 2012. 
Aida Challancin Dutmer, an NMU student during Carey's employment, wrote a letter in 1995 describing Carey as a "beautiful, intelligent, kind young woman with an excellent educational background." Dutmer said that Carey was very fond of her students but was firm when necessary. 
West said that Carey was a symbol of hospitality, noting that her appreciation for the beauties of nature and wildlife coincided with Northern's heritage. She took a conservative stand in regards to student dress, personal grooming and social behavior. Some students resented this, but her policies were implemented to create good character and clean records for graduates. 
"Carey knew and trusted the students better than many ever suspected," West said. 
Judi Bailey was the first female president of NMU serving from 1997-2003. Graduating from Couper College in 1968 with a major in English and history and a minor in Spanish and religion, she went on to teach in various middle schools and high schools, beginning her administrative career as a principal. She eventually received her doctorate in education and administration in 1976 and continued working as an administrator. 
Bailey became the first female vice president of the University of Maine in 1992, working there until she was offered the presidency position at NMU in 1997.
Upon her installment as president, Bailey outlined five basic principles for her actions at NMU: student access, student success, creating a learning community, partnerships, shared governance and shared responsibility. 
Throughout her time at NMU, Bailey focused on improving enrollment and fundraising by redeveloping Northern's campus and opening satellite campuses around Michigan. 
In an interview conducted by professor Russell Magnaghi in 2003, Bailey said that the highlight of her presidency was when the buildings in the science complex were dedicated, giving a new look to the academic mall and improving enrollment in nursing, math and sciences. 
It was during Bailey's presidency in 2000 that all students received laptops to ensure that everyone had equal access to quality technology. 
In 2003, Bailey resigned from NMU to accept a job becoming the first female president of Western Michigan University. She said that she had mixed emotions about leaving Northern but felt that she could not pass up the new opportunity. 
Bailey was described as a model for leadership, courage and grace. She had a passion for education and honored the clear vision, energy and hard work that comes with pursuing the work that she loved. 
Women have paved the way for Northern to become the university it is today. Carey and Bailey are two figures who have positively impacted campus, leaving marks that will be remembered throughout history. 
It is important to honor these women in remembrance of their time at the university and the waves they have made. 
Editor's Note: Historical information used in this article came from the NMU Archives.