Superior Dome showcases Spring Swing Softball Invitational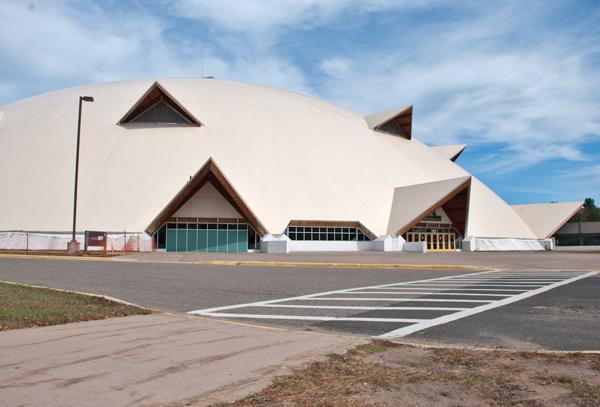 After a two-year absence, the Spring Swing Softball Invitational is coming back to the Superior Dome at Northern Michigan University this weekend.
Spanning the U.P. and northern Wisconsin, 25 high school teams are participating in the Spring Swing from Friday, April 6 to Sunday, April 8, with the chance to start playing softball while waiting for the snow to go away. Marquette hosts the invite and will be joined by Marquette County teams with Negaunee, Ishpeming and Gwinn. 
On Sunday with a new twist, the NMU club softball team will be in action against Lake Superior State in a doubleheader at 2 p.m. and 3:30 p.m. Marquette and NMU club coach Kyle Johnson is organizing the tournament, and he couldn't be more excited to raise money for the Redettes' program and to have softball in early April.
"I think it's going to be really good, I think it's going to be well-received," Johnson said. "It's nice that this falls during this time of year, I don't want to say it's nice that there's still snow outside because I want the snow to go away so we can get outside, but it's nice that it falls during the spring. Teams need to play, but we can't get out on the field here in the U.P. This allows me as a coach, and I hear it from a lot of other coaches, that this gives them a really nice early season look at what they got."
When given three days to host the Spring Swing, Johnson didn't think that they would be able to fill it up. The invite usually has around 15 teams but after sending out emails to a lot more teams this year, the response was incredible with 24 teams, he said.
There will be two games going on at once with two fields, and a 90-minute interval before the next game begins. Friday hosts four games on each field starting at 4 p.m. through 8:30 p.m. Saturday starts at 9 a.m. and lasts through 7:30 p.m., and Sunday's action starts at 8 a.m. and the invite wraps up with the last games at 5 p.m. 
Admission is $5 on Friday and $10 each on Saturday and Sunday. However, a weekend pass can be purchased for $15, and ages 12 and under are free.
"I'm super excited, we're really excited to get back at it," Johnson said. "The response was incredible, before with just the two days, we'd have maybe 15 teams. We've grown by leaps and bounds here, and for Marquette Senior High School softball, we don't get financial help from the school in any way. This is our big fundraiser to help support our program."
With Johnson assuming his coaching position with the Wildcats club team, the doubleheader was able to come to fruition. Just like the high school teams, NMU is still facing the elements and can't get outside to play. Northern tried to go down to Madison a couple of weeks ago to play in a tripleheader, but only got one game in with 35-degree temperatures, Johnson said.
"That's going to be fun for us and for Lake State," Johnson said. "We're not in the same division of the softball association that we play in, so it's nice to get to play them outside of that. Once again, it's nice for NMU and Lake State because we couldn't get outside and play right now. To be able to bring softball into the Dome is exciting in itself."
Soon enough there will be softball outside, but three jam-packed days of softball are coming inside the Superior Dome this weekend.