Non-profit organizations to gather at Northern Center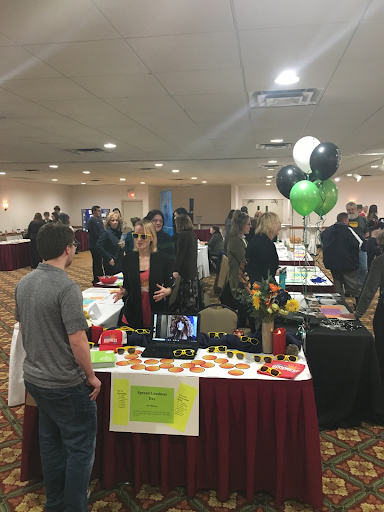 Students looking to make connections to non-profit organizations and find ways to give back to the community will have the chance to meet with organizations at the "Resolve to Get Involved" volunteer fair.
The event, a joint venture between several community organizations and the Student Leader Fellowship Program, will be held on April 11 in the Northern Center's Ballroom. The fair will run from 5:30 p.m. to 7:30 p.m. 
"Grow and Lead and Connect Marquette wanted to help people connect with local organizations in need of volunteers, committee members and board members," Dan Korhonen, a board member and volunteer committee co-chair for Connect Marquette, said. "It is a casual event so come as you are."
There will be more than 20 local non-profits attending this event, including United Way of Marquette, Little Brothers: Friends of the Elderly, Upper Peninsula Animal Welfare Shelter and the Women's Center. Connect Marquette, one of the organizations planning and hosting the event, will also have a table, along with their partners SLFP and Grow and Lead.
"Resolve to Get Involved" was first held in 2019 and this upcoming event will be its second time in Marquette.
"COVID stopped any plans for 2020 and 2021. There are hopes to make the event an annual one," Korhonen said. 
While hosted on NMU's campus, it will be open to both campus students and the broader Maarquette community. Attendees will be able to meet representatives from community organizations and have a chance to discuss volunteer and internship opportunities.
"[I hope students are able] to get involved in the local community," Korhonen said. "Whether you're interested in short-term volunteer opportunities or becoming a board member, this event is for you."
This event will provide opportunities to those in any career field, ranging from healthcare to helping youth, elderly, animals and more. 
Holly Holmstrom-Boster, board member and events committee chair for Connect Marquette, encourages all to attend, no matter their academic background.
"Especially with the trials and tribulations of the past two years, people are more eager than ever to get out and get involved, and organizations are in need," Holmstrom-Bolster said. "The event is a perfect opportunity for students and the general public alike to boost their resume. Even just chatting with various organization leaders is good practice for future interviews." 
The Student Leader Fellowship Program at NMU is a two year program that teaches leadership skills and pairs students up with mentors in the community. One of the requirements for graduation is a 100 hour internship that often takes place with a local non-profit.
"SLFP has always been a bridge between NMU students and non-profit organizations, so its involvement in the event made sense," Nichole Sandoval, co-leader of SLFP and overseer of all student organizations on campus, said. "I'm excited to see several non-profit organizations represented at the fair with exciting volunteer opportunities for students on campus."
"Resolve to Get Involved" is a great resource for students both in and out of SLFP looking to get more involved in the community and find great opportunities to volunteer, said Sandoval.
Students interested in attending can RSVP through the organization Yoopers United or register at the Northern Center on the day of the event.
"Volunteering and being an active member in your community is so important," Sandoval said. "Many nonprofit organizations and charities rely on volunteerism and the main benefit of volunteering is helping others and giving your time and energy towards making a positive impact in someone else's life."