Hockey goes through flux with transfers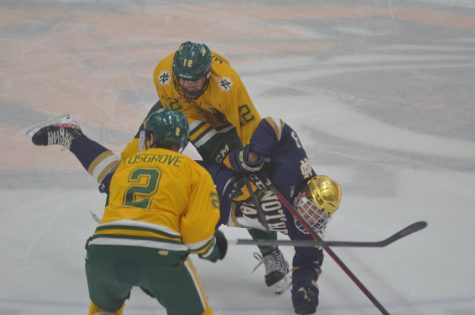 The Northern Michigan University hockey team has gone through some changes in the past month of the offseason, with three players coming in and four players seeing their way out.
The college sports scene has changed a lot with the recent movement inside of the transfer portal. Last season, the 'Cats brought in four transfers, forwards Hank Crone and Hampus Eriksson and defensemen Trevor Cosgrove and Bo Hanson, which completely changed the outlook of the roster and immediately contributed to the team's success. 
NMU welcomes in two defensemen and one forward as of this article. Connecticut sophomore forward Artem Shlaine was the first transfer to come into the program, the 2020 fifth round NHL Entry Draft pick by the New Jersey Devils had seven goals and 10 assists this past season with the Huskies. 
Junior Simon Kjellberg and sophomore Aidan Gallacher are also coming into NMU as defensemen. Kjellberg comes from RPI and was one of the most heralded defensemen in the entire portal with eight goals and 19 assists. A sixth round pick by the New York Rangers in the 2018 NHL Entry Draft, the Nashville native comes to NMU trying to make it to the league like his father Patric. The eldest Kjellberg played 394 games and scored 64 goals along with 96 assists in the NHL for the Montreal Canadiens, Nashville Predators and the Mighty Ducks of Anaheim (now Anaheim Ducks). 
Gallacher comes to Marquette from Michigan State, and only scored one goal and had one assist for the Spartans. Gallacher notched two assists as a freshman, so he'll come to NMU as a relatively inexperienced college player with two years of eligibility.
The program or head coach Grant Potulny has yet to make an official statement on the incoming transfers, but that is assured to come at some point.
There's also the dark side of the transfer portal, and the Wildcats have had four players leave the program to pursue another school. The forward trio of sophomores Connor Marritt and Mack Byers, and freshman Oscar Geschwind have all entered the portal. Senior goaltender Nolan Kent is the fourth Wildcat to hit the portal.
Byers committed to play for CCHA conference opponent St. Thomas and is the only one of the four players committed to another school as of now. Geschwind just entered the portal yesterday, while Marritt and Kent both entered about a month ago and are still searching for a new home.
This is the new reality of college athletics, and the transfer portal numbers will continue to rise. For now, NMU is doing what it needs to do to stay in contention and that's dipping their toes into the portal to find new players that will fit in.