Visiting poet Topaz Winters reflects on her writing journey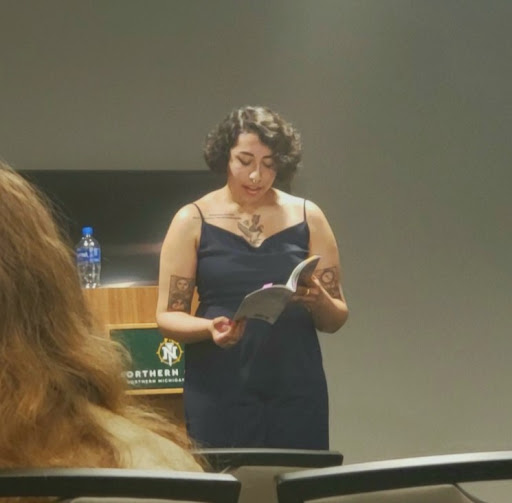 As a part of the Visiting Writers Series that the Northern Michigan University's English Department's Masters in Fine Arts program hosts, Topaz Winters, an internationally award-winning poet, was featured as a final guest for the semester. She read her poetry aloud before doing a Q&A and signing books on Thursday, April 7 in the Peninsula V room at the Northern Center from 7 to 8 p.m. 
The English Department has held the writing series for decades, but after going to a virtual format due to COVID-19, the events have only recently been brought back to in-person, Patricia Killelea professor and director of the Visiting Writers Series, said.
"Northern is beautifully rural here along the shores of Lake Superior, but that doesn't mean we can't stay connected with some of the best voices writing today," Killelea said. "From award-winning novelists to the latest authors publishing in creative nonfiction, poetry and hybrid genres, we try to host writers who will inspire others and generously share their craft, knowledge and creativity."
National writers from a variety of styles and backgrounds share their recent publications, engage in Q&A discussions and sign books at the various events in the series. They bring together students and faculty, as well as a broader literary community, to enjoy the power of both the written and spoken word.
"Some genres like poetry are especially powerful when read out loud since poetry is so connected with sound, rhythm and performance," Killelea said. "At the same time, there is nothing like being in the presence of a really good storyteller."
Winters is one of the youngest artists to be featured in the series. She is a Princeton University college student from Singapore and a critically-acclaimed author of three full-length poetry collections, her most recent being "So, Stranger" published by Button Poetry. She is also the founder and editor-in-chief of the publishing house and literary journal Half Mystic. She is an essayist, performer, artist and scholar, according to topazwinters.com.
Winters describes meeting people from around the world and learning that her words have touched people as a dream.
"[It] is just such a unique and beautiful experience. It really makes me feel so much more connected and so much more rooted within the world around me," Winters said.
Her work itself can be solitary and in many ways a little bit isolating, she said. Just getting to connect with people who are so different from herself who has a strong and beautiful connection to her and find value in her work is her favorite part of the job.
Winters said the loneliness, the constant distance and having people not understand or consider her work illegitimate is a negative aspect of her chosen career… Still, she could have never imagined living this life while still in university and she said she feels grateful every day.
"[It] makes me happy when readers are like, 'oh, I love your work since you were sixteen years old.' That's a really big compliment because my work has changed so much since I was 16 years old," Winters said. "Like any artist, my work evolves over time."
She's gotten more confident as her voice has gotten more singular. Winters considers the impact of her experiences and growth in gaining confidence and an individual voice.
Winters talks about the importance of honesty in her work and sharing even when things are tough and uncomfortable. It's an aspect of her work that she values and helps gives her stories individuality and voice.
"It is not always the easiest thing in the world, but it is always worthwhile," Winters said. "Don't let yourself believe that just because there are so many of us out there that your individual voice doesn't matter. It always matters. We need the story that you're telling and we need it maybe more than even you."