Meet NMU's new drum majors chosen for '22-'23 season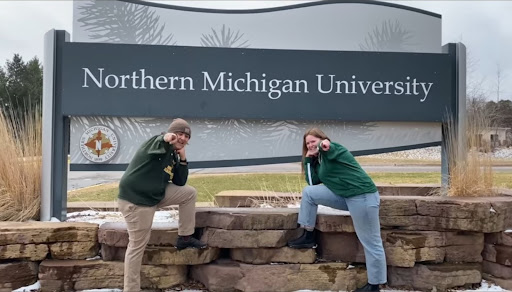 The Northern Michigan University band elected two drum majors this past month who are looking forward to the 2022/2023 season and working closer with the band in a new way that neither of them have experienced before. Abby O'Connell and Jondular Schertz envision the band's future following recent years and are excited to fulfill their new positions.
Being a drum major is conducting the band, teaching the fundamentals of marching and acting as a liaison between the director and the band, said O'Connell, a senior secondary music education major. Drum majors are responsible for keeping the band organized and on task, as well as acting as a leader for the band.
The process of getting the position of drum major requires an application with an essay outlining the reasons you want the position as well as any previous experience in band and directing. There is also an audition that consists of conducting the symphonic band through two pieces, giving commands and directing the band in a march, according to O'Connell.
The drum major applications are reviewed by the band council, faculty, an outside adjudicator and band director Steve Grugin.
This was O'Connell's second time auditioning for the position and this semester they had six people audition for the role, which she says is pretty standard. The band re-auditions for the drum major position every year.
As a drum major, O'Connell wants to create a fun and inclusive environment for students to make music and help the band reach its full potential in putting on a great show for wildcats with her co-drum major.
"We are all hoping that this season we will be getting 'back to normal' after COVID-19," O'Connell said. "But it's been such a long time that it might be a challenge to remember how it was."
Despite the challenges of band performances as a result of COVID-19, O'Connell said she is ecstatic at the prospect of some normalcy and the ability to give NMU fans the best performances.
"I love being in band because of the people," O'Connell said. "Band is a great way to meet new friends of all different majors and interests, when we come together to make music."
O'Connell is student teaching in the winter of 2023 and graduating that May, so this is her last season of marching band before her teaching job.
"My dream job is to teach band in college," she said. "It is amazing that we get the opportunity to be a part of it."
Both drum majors found out about their new positions the same day they auditioned, according to drum major Schertz, a senior secondary music education major.
The committee chooses who they believe are the best candidates and after some deliberation, band director Grugin informed the two candidates of their acceptance. 
"We are responsible for keeping the band aligned with the goals of the director, Dr. Grugin," Schertz said.
Schertz reflected on their current home football schedule and the possibility of them having seven shows. The large number of performances is something that Schertz believes is completely doable, but could potentially be a challenge.
 He wants to make the band the best it can be while having fun and strengthening their ability to perform.
"The position is a dream come true," Schertz said.
Something he is looking forward to is their annual Band Camp, something he hints it is not too late to register for.
"I'm looking forward to seeing all the returners and the new people," Schertz said. "I really love the community that we have created and how welcoming it is."
Part of that community is why he wanted to become a drum major, he said. They're responsible for helping foster that community and he is excited to continue that tradition.