NMU Grad Student, Chris Black, wins UPGA Championship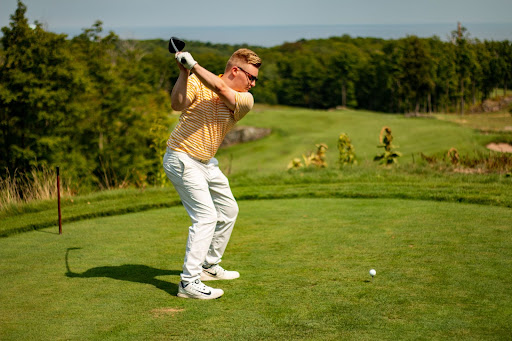 After the first round of the Upper Peninsula Golf Association Championship Tournament, Chris Black was four over par and on the back half of the leaderboard. However, after almost missing the cut in the first round, he was able to battle back slowly over the next three days to ultimately win the tournament and walk home with the trophy.
"I definitely did not consider myself out of [the tournament] because you cannot win it on day one, but you can definitely lose it," Black said.
A lot of people would be down on themselves after a bad first day, but Black was determined to win. Some of his motivation stemmed from his experience last summer when he competed in the North of Ireland Golf Championship and only made it to the last 16.
"I did not play so well in that tournament so I kind of wanted to set myself a goal for the end of the summer," Black said.
Originally from Northern Ireland, Black started playing golf when he was about 12 or 13. In 2016 he was recruited for the NMU Golf Team and ultimately moved to the United States to play golf and pursue a degree in business administration. When visiting his family back in Ireland for the summer, Black competed in the North of Ireland Golf Championship but was not happy with his performance.
After moving back to Marquette in July, Black saw an opportunity to play in the UPGA Championship and redeem himself from the recent loss in Ireland.
"So the two weeks leading up to the tournament I really hit the driving range every day," Black said. "I also was playing a few rounds with some of my friends, like on Tuesdays I would play with … a few other guys at the Marquette Golf Club and they would get me in the competitive mindset."
Black shot a four over par 76, but after playing three great rounds after that, he won the UPGA Championship by three strokes. Black ended up finishing one under par and a total of 283 over the course of the tournament.
"Even coming down the 18th [hole] on the first day I knew it was far from over for me and I remember thinking that I should really try to make a birdie here," Black said. "I stuck it in the bunker right in front of the green and ended up getting par. So I got a little get out of jail free card there because it could have been worse."
Black does not plan on turning pro but plans to still play golf competitively at an amateur level. He will graduate with an MBA from NMU in December and will instead pursue a career in sales.
"My whole thing the whole week was just kind of like trusting the process of what you are doing. Even after I was not anywhere near the top off the first day, I was kind of just thinking, 'that is alright, just go ahead and stick to the game plan tomorrow,'" Black said. "I am right where I want to be for sure. Whether that is on the golf course, playing golf, that is right where you want to be because it is better than a tough day at work."