Jacqueline Smith earns GLIAC Offensive Player of the Week, Wildcats go 4-0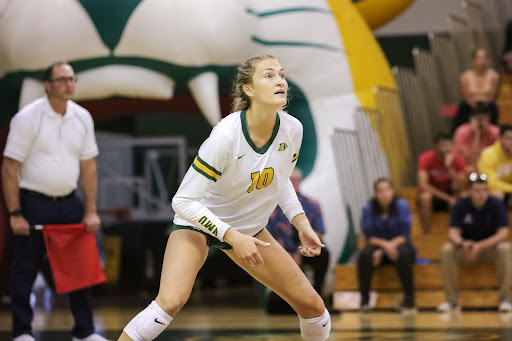 After the 3-1 start to the season, the Wildcats went on their way to Owensboro, Kentucky to play in the Kentucky Wesleyan Tournament for another four-game stretch on Sept. 2 and 3.
"I tell my team after every win, no matter who we play, winning is really hard at this level, so to show up and get a W is always impressive," Coach Mike Lozier said. "And we really did that four times in a weekend."
The Wildcats went 4-0 in Kentucky to continue the great start to the season, improving their record to 7-1.
On the first day of the tournament the Wildcats started strong, posting wins against Henderson State University and Kentucky Wesleyan. The Wildcats lost the first set to HSU 22-25 but went on to dominate the following 3 sets to win the match.
That dominance followed as they went on to beat Kentucky Wesleyan 3-0 by scores of 25-18, 25-22 and they closed out the final match by 9 points to win 25-16. Junior Jacqueline Smith had a total of 37 points on the first day.
On the second day of the tournament the Wildcats faced Tiffin University and they were able to start the day with a 3-1 win.
The final game of the tournament was against William Jewell College. The Cardinals started the match on a 14-3 run and won the first set 25-15. The Wildcats started the second set 8-2 but allowed the Cardinals to go on a 7-1 run to get back into the match and win the second set 25-19. The Cardinals were up 2-0.
"Quite honestly, I removed myself a little bit. I think I had a moment I was like, 'I think you are coaching too much'," Lozier said. "They are super talented as a team. And so I was like, 'let's step back.'"
The Cats went on to win the next three sets 25-20, 25-14 and 15-6 to storm back and win the match 3-2.
"It was a 13-hour bus trip, so our team was exhausted and so to dig deep and get that win, it really showed that we are never really out of a match," Lozier said. "It is really good for a team to see that because we are going to be faced with adversity all year long against good teams. So to know that at any moment, we can turn it on and turn it around is hugely important to our success long term."
The Wildcats played well and as they went 4-0, Smith won Great Lakes Intercollegiate Athletic Conference offensive player of the week and had 71 kills, averaging 4.44 per set along with seven aces. Over the course of the tournament, she averaged 20 points per game and currently leads the GLIAC with 138 kills and 4.18 kills per set.
"Jackie is a special player, but this is a special team that did some really great things this weekend," Lozier said. "This was kind of our last test before we start conference play. I am pleased with where we are at right now."
The Wildcats come back home to Marquette to start conference play with a five-game home stand, and their next game is against Grand Valley State on Friday, Sept. 9 at 7 p.m. at the Vandament Arena. Grand Valley State is currently 6-2 on the season.
"You do not come here to coach or play to just win all the time without being challenged," Lozier said. "This program is about more than that. It is about winning at the highest possible level. I am competing with some of the best teams in the country at our level. So this is just another opportunity to do that and to learn about ourselves and to get better."