Inside the man behind the door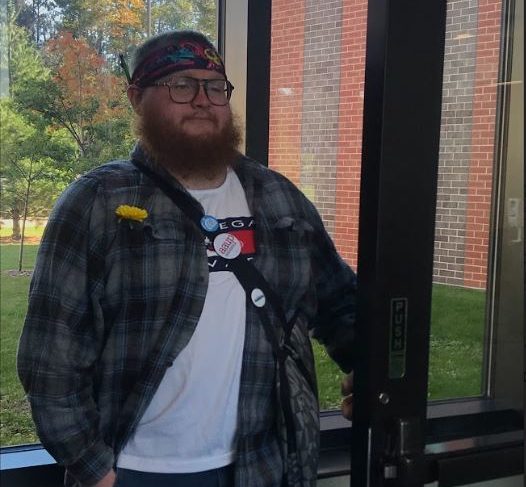 Harry Stine, Assistant Features Editor
September 29, 2022
If you open Yik Yak, the anonymous social media app, on any average day, you will usually see the same subjects appear. Someone venting about life, a joke or two about the food at Northern Lights Dining and something about "Door Guy," whether they are showering him in praise, asking where he is, or saying they forgot to say thanks to him.
Ronald Joseph Coon, or R.J. as he prefers, is a senior at Northern Michigan University, studying history and minoring in citizenship studies. He has become a bit of a campus celebrity during his time at Northern for holding the door that separates Jamrich Hall and the Lydia M. Olson Library for students.
"It was not necessarily a choice," R.J. said. "One day I am like, 'you know, it is time.'"
According to R.J., on a typical door holding day, he will wake up at 7 in the morning, take his morning pills, eat a pop tart, take a shower and relax until 8:30 a.m., when he heads over to Jamrich. With his earbuds in, he enjoys "anything from Dolly Parton to Motorhead."
"I move my toes," R.J. said. "So, not a lot of people notice but I am sitting there tapping my foot and I am dancing. In my head, I am moving and grooving."
From there, he holds the door open for passersby until 10:30 a.m., when he goes to his first class of the day. After class, he heads back to hold the door for another hour or so, then gets lunch, then goes back to class.
"I have a lot of time on my hands," RJ said. "That is why I am usually there. What I try to do every day is at least two hours."
R.J. began his career by holding open the door outside the Woods his freshman year, eventually moving to Jamrich to reach more people and to not be "in the elements."
But for his true beginning as a door holder, the story goes much farther back. As a child, R.J. would hold the door open for his mom and grandma, and if he did not hold the door for someone in need behind the two of them, they would make him hold the door open for a few more people. 
One day in eighth grade, R.J. decided to hold the door open for classes he arrived early to. The following year, his start in high school, he decided to move to the building entrance. R.J. described waking up and walking to his high school, similar to his current regime with Jamrich, and incorporating holding the door into his schedule.
High school proved to be the place where the position would stick with him. On one particular day, rain poured down, drenching everyone walking in. R.J. was outside, holding the door with an umbrella in hand, when an idea came to him.
He asked a friend walking in for his umbrella, then when a student would be dropped off, he would run down to their car, hand them an umbrella and walk back with them. Later, he would receive an email from his principal thanking him for walking his daughter into the building, as well as for helping the rest of the student body.
His senior year ultimately gave him the most reason to continue. In the latter part of the year, a classmate committed suicide, rocking his high school and himself. R.J. described the difficulty in class the next day and the sense of grief felt through the student body. Then a few months after graduation, another classmate committed suicide, and the same feeling went through R.J. again.
"That is why I hold the door," R.J. said. "Because if you want to, people can talk to me, I will just take my music out. I am not actually doing much."
After high school, R.J. learned that his younger cousin had taken up the mantle and began holding the door for others. He heard his friends had joined in, and now another student holds the door by the bus drop-off area as well. If this new generation was George Lazenby's outing as James Bond, R.J. was Sean Connery – the original, and possibly the start to a long tradition.
"I want somebody to replace me," R.J. said. "I am not necessarily guiding. I am just showing you a way, and I want to be replaced, because you are only here for so long."
Otherwise, he reflected on his past few years holding the door as positive ones. He laughed about how the occasional person would try to give him money, which he would never accept, although he would take the occasional sandwich from Starbucks when he does not pack a snack.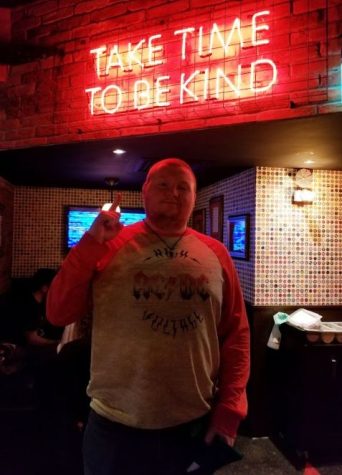 He reflected on his senior year at Northern as a fun one, finding the now well-established recognition funny. The first week of classes, a sociology professor asked him to speak about social change, using him as an example. Upon being asked about the future of door holding as a senior, R.J. had a few words.
"I am probably going to hold the door until I physically cannot anymore, until you just have to throw me down and I will be the doorstop," R.J. said. "I am going to. It is just something, it is just a part of who I am. So, I am going to keep doing it for a long time. Long after I am out of high school, long after I am out of college. I am going to keep on keeping on and just try to improve where I can."