Baking with Madoline — Pumpkin bread
The first days of fall are upon us and as chills fill the air, we tend to crave warm gooey sweet treats filled with all things nice and pumpkin spice. This recipe may appear daunting, but don't fear, gather the following ingredients, materials and prepare as directed and your home will be filled with cinnamon spice aromas while you wait for your loaves to rise.
This recipe requires 15 minutes of prep time and one hour and five minutes (60-65 min) of cook time per loaf. 
Ingredients:
1 and ¾ cups all-purpose flour
1 teaspoon baking soda
2 teaspoons ground cinnamon
¼ teaspoon ground nutmeg
¼ teaspoon ground cloves
¼ teaspoon ground ginger
¾ teaspoon salt
2 large eggs — at room temperature
½ cup granulated sugar
¾ cup packed light or dark brown sugar
1 and ½ cups pumpkin puree – canned or fresh
½ cup vegetable oil, canola oil, or melted coconut oil 
¼ cup orange juice
⅔ cup semi-sweet chocolate chips
Materials:
Rubber spoon
Whisk or a fork
Large and medium mixing bowls
1 9×5-inch pan
Can opener – for pumpkin puree cans
Measuring spoons and cups
Non-stick spray 
Tinfoil
Hot pads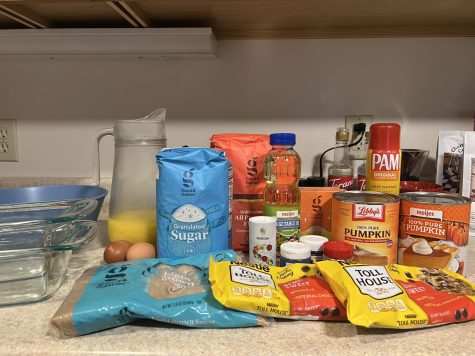 Directions:
Preheat your oven to 350 degrees Fahrenheit. I lowered the rack in the oven to the lower third position to prevent the top of the bread from browning too much. You can grease your loaf pans with a non-stick spray, butter, or oil – I used PAM non-stick to grease my pans – and you'll want to set these aside for later. 
Taking a large bowl, whisk the flour, baking soda, cinnamon, nutmeg, cloves, ginger and salt together. Setting the dry ingredients aside, grab a medium-sized bowl and combine the eggs, granulated sugar and brown sugar. Using a fork I whisked in the pumpkin puree, canned or fresh, oil and orange juice. 
Pouring and combining the wet ingredients with the dry, I used a rubber mixing spoon to gently fold everything together. I didn't over-mix — it's okay to have a few lumps in the batter. Don't forget to add your semi-sweet chocolate chips as your final touch.
In your loaf pans pour the prepared batter inside and bake in the oven for 60-65 minutes. I made sure to have some tinfoil ready to loosely place over the loaves at the 35-minute cook-time mark, so the top of the loaves wouldn't over-brown. 
Allow your bread to cool completely once it's done baking. Make sure to have hot pads ready as you take the pan out of the oven — it's hot. You can cover and store the pumpkin bread at room temperature for up to three to four days, or in the refrigerator for up to a week. I used Press'n Seal.
As a college student, baking can be a timely and costly challenge — but it's not impossible. I found that I spent longer waiting for my homemade pumpkin bread to rise than it took to prepare the batter. It's an easy, low-pressure, staple recipe for your sweet tooth needs when the cravings for something with a little spice arise.