Michigan DNR Releases Statistics on 2022 Firearm Season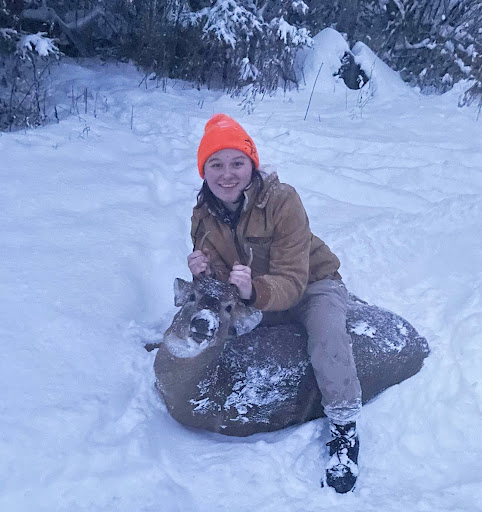 Hunters all across Michigan bundled up to celebrate the start of firearm season on Nov. 15. The date also signified the end of archery season, which began Oct. 1. 
Although this year brought new regulations, one thing that remained the same was the enthusiasm for the sport. 
NMU student Sydney Kapp was one of many Wildcats to don orange and hit the blinds this year. 
"I love watching everything. I love listening to everything. I love everything leading up to the shot," Kapp said. 
For Kapp, hunting comes with a responsibility to respect the animals and area she is hunting in.
"When you know for certain that you took that animal's life, you're now a part of the circle of life," Kapp said. "You have a duty to respect that animal even in death." 
Michigan's Department of Natural Resources intends to do just that by closely monitoring the amount of deer killed each season. This allows them to monitor the deer population, which is important to conservation efforts. 
Beginning this year, the Michigan Department of Natural Resources requires hunters to report all harvests to the DNR database within 72 hours of the harvest and before processing or transferring. This holds true across species and hunting seasons.
Hunters are still required to attach a paper tag to their harvest, and if the head of the deer is separated from the body, the tag must stay with the head. Hunters can report harvests using the DNR's HuntFish app, or using the state's online reporting portal. 
"Because this is a new system this year, we do not have comparison data from prior years to properly compare", said DNR public information officer John Pepin. "Next year we will better understand how prevalent hunting is and any trends between data."
The reports, accessed on the state of Michigan's website, update in real time and can be filtered by county, season or harvest type. 
During this year's regular firearm season, hunters in Marquette County reported a total of 1,503 harvests: 104 of those were antlerless deer, and 1,399 were antlered. 
The Michigan DNR reminds people to dress appropriately for the weather when hunting.  This time of year can be unpredictable, and it's always better to be prepared in case of an emergency. 
Let someone know where you plan to hunt, and when you intend to be back. Hunters and non-hunters both should wear bright colored clothing, especially orange, to increase visibility. 
Open hunting season lasts until March 31. Additional details on regulations, season dates and more can be found on the Michigan DNR's website.