CO/LAB Co. showcases vibrant student choreography
For student dancers and choreographer's alike involved in CO/LAB Company's annual performance, the opportunity to share work on stage and dance, has heightened the anticipation of its vibrant opening night dance collaboration experience for attendees and cast members across campus.
The show will feature three student-choreographed dance pieces as well as four choreographed by faculty, and provides a unique opportunity for students to showcase their choreography skills.
Before joining, Gianna Daprai, student choreographer and a junior environmental science major, said she knew student choreographers would be given the opportunity to audition their work for the upcoming show.
"[The director] had chosen me over the summer actually, so I didn't really have to audition my piece," Daprai said. "She chose me from seeing my work from another class."
Karina Johnson, director and choreographer of CO/LAB Co. and special instructor in the theatre and dance department at NMU, said she is trying to incorporate more opportunities for students to choreograph and be in front of the studio.
"They get to choreograph on their peers and friends, so it is a very safe space for them to experiment and try new things," Johnson said.
Johnson said the dance company aims to give more dance opportunities to students on campus. However, CO/LAB Co. is also for anyone who might have had a lot of dance in their lives and chose not to major in it, but still wants to keep it as a part of their lives.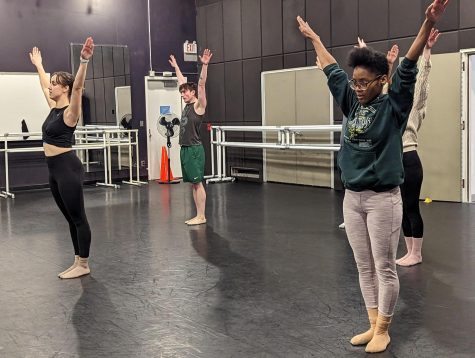 Prior to Daprai's audition, Daprai joined the company to have more opportunities to dance and choreograph, and was aware technique classes and dance shows were being integrated weekly for additional practice.
"It just kind of created a bigger opportunity for all dance majors and anyone who wants an opportunity to dance," Daprai said. "I think all of us just want to do as much dance as we possibly can, and having weekly classes was beneficial to building my skills as a dancer."
Daprai said she is very excited to showcase her piece titled, "A Different Kind of Love," as it is her first choreographed piece that she is performing for others.
"I'm so excited to have my work and my ideas, and things that have been in my head, come to life on stage and for other people to experience and witness," Daprai said.
The piece she created, Daprai said, is very modern and contemporary.
"I feel way freer choreographing contemporary dance and I love the expressiveness of it the most," Daprai said.
Being present onstage and studying the lighting and spacing in a more realistic setting of how the show will unravel, has been Daprai's highlight in preparing for the performance.
"The stress is over right now of choreographing and learning choreography, and all that's left is just running it and finalizing it, which has been super fun," Daprai said.
Alongside Daprai, Sylvia Gravel, student choreographer and a senior dance major with a minor in biology, said her choreographed work titled, "Ain't No Sunshine," has been in the works for the past four years.
"Finally just being able to bring it to life and seeing everyone execute my vision has just been really incredible," Gravel said.
Gravel said she is excited to showcase cast members' technique and showmanship at the performance. 
"I think there is such diversity in this show and every single piece is so different," Gravel said. 
Joining CO/LAB Co. was an easy decision for Gravel because of the opportunities to dance, perform, meet different people from different backgrounds, and to learn and build off of each other.
"I would like to move into choreographing contemporary a little bit more, but jazz right now is both the easiest and most fun thing for me to choreograph," Gravel said. "There is a variety of choreography, different styles and some are at a more simple level, which definitely gives opportunities to people who may not have that high of a skill level yet to perform."
The company holds auditions each fall semester for anyone on campus with a motivation to dance or with past dance experience, Johnson said.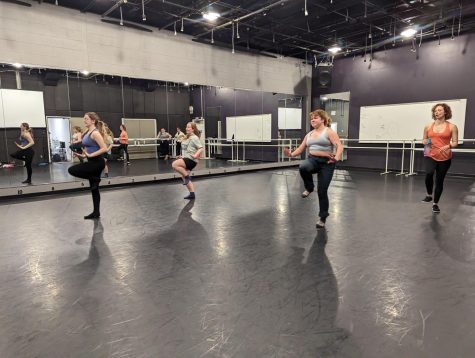 Both Daprai and Gravel both encourage students with or without dance experience to audition.
"Even if you are not a super strong dancer, there is still so much opportunity within the upcoming show and within the beginning stages of the company," Daprai said. "It's created a bigger opportunity for all dance majors and anyone who wants to dance to have more opportunity to be involved, and I think all of us just want to do as much dance as we possibly can."
Something that will stick with Johnson through her years as a choreographer, she said, is hearing feedback from student choreographers over time of transitioning from being unsure of themselves to becoming confident in their abilities.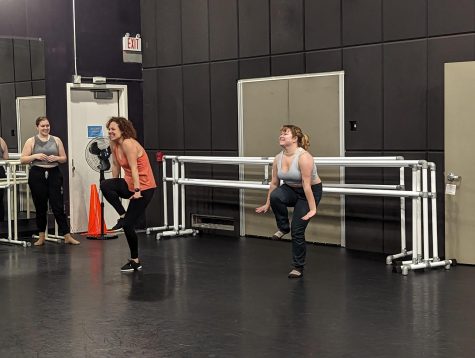 "It is an amazing feeling and being the faculty member and the director of the show, I feel so proud. But I hope that these students feel super proud too of what they are doing and how much they have grown not just as dancers, but also as choreographers and people just being people," Johnson said.
CO/LAB Co. opens today, Thursday, Feb. 2, from 7:30 to 9 p.m. at the Forest Roberts Theatre. Attendees can experience an exclusive opening night party of food and beverages, and have the opportunity to meet the cast and creative team. If you can not make opening night, there are three more shows on Friday, Feb. 3, from 7:30 to 9:00 p.m. and Saturday, Feb. 4, from 1:00 to 2:30 p.m., which is a sensory-friendly performance, and a final showing on Saturday from 7:30 to 9:00 p.m.
The entire dance performance is 45 minutes in length with a short choreography arrangement in varied styles of dance, including contemporary, traditional jazz, commercial and theatre movement, Johnson said.
"You are not coming to watch a fairy tale story show, you are coming to see people express themselves in a dance style, but in a way that could be relatable to anybody," Johnson said. "To show that dance can be relatable even at a high standard and a high quality of dance, and it can be something that can be enjoyed by anybody."
Single tickets are $17 for the general public, $12 for NMU faculty/staff, seniors and military, $10 for students and $5 for NMU students. Tickets can be purchased online, by phone at 906-227-1032, or in person at any NMU Ticket outlet. Any questions can be emailed to [email protected]