Fancy-Free, a curated thrift experience
A store that encourages you to never settle on a style
What does it mean to be "fancy-free"? Despite opening a small thrift store by that name in Feb. 2021, U.P. native Greta Hillstrom has been living what she describes as "fancy-free" for the majority of her life.
"Fancy-free is a way of life," Hillstrom said. "It means 'free from commitment.'"  
However, the statement 'free from commitment' seems to be an understatement for Hillstrom, who has been independently traveling around the United States since she graduated high school. In the past 10 years, she has held all of the nine to five and odd jobs you can think of, including Segway tour guide, Krispy Kreme donut slinger and a nanny in New York City.
To put the sporadic nature of her life into perspective, she has had 25 different addresses since setting out on her own.
"I was a total free spirit to the point where my family was worried about me," Hillstrom said. "Both my parents and sisters were concerned, and they would always ask me 'are you ever going to settle down?'"
The thought of settling down never crossed Hillstrom's mind. That is, until she was sifting through racks of clothing at a Goodwill in Connecticut — one of the many states she has called home — and stumbled upon a Tory Burch romper. The garment, which retailed at roughly $200, was being sold for just $6. Despite knowing she would never wear the romper, Hillstrom knew the deal was too good to pass up.
After purchasing the romper, Hillstrom listed the garment on Poshmark for $50. To her surprise, it sold the same day she had discovered it.
"I heard angels singing," Hillstrom said. "A light switched inside of me and I just started selling everything."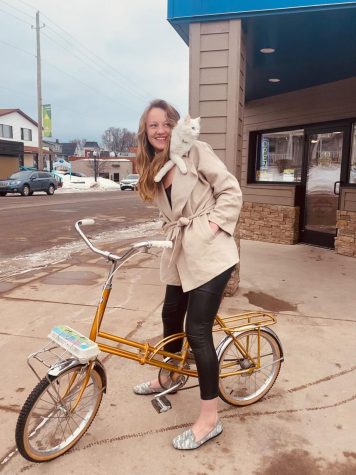 After sorting through her clothing and listing everything (literally everything) on Poshmark, Hillstrom realized that thrifting and flipping clothes was something she genuinely enjoyed doing. In addition to finding fulfillment in the work, she has been able to make a living doing so.
Hillstrom would spend the next three years flipping and selling clothing on Poshmark. Considering she has nine siblings, Hillstrom has been long accustomed to a lifestyle defined by hand-me-downs and second-hand clothing. After discovering this new business opportunity, however, her days soon revolved around visiting as many thrift stores as she could, collecting sizable hauls and listing her goods online. 
When circumstances led her back to the U.P., Hillstrom found that she had grown tired of the online marketplace and was looking for something a bit more permanent. With a stockpile of thrifted goods and a bit of saved money, an idea quickly popped into Hillstrom's head.
"I decided I was going to start a store," Hillstrom said. "And literally there were just a couple weeks in between deciding to open a store and actually opening a store."
After settling in Marquette, a place she chose due to the creative nature of the community, Hillstrom found the perfect location for her shop: 131 E Michigan St. As soon as she walked in the door with co-founder Bobbi McGee (her cat), she knew there was no escaping the space.
"The first thing I said when I walked in the door was 'my moped is going up there,'" Hillstrom said. "I knew this was the space and there was no getting around it."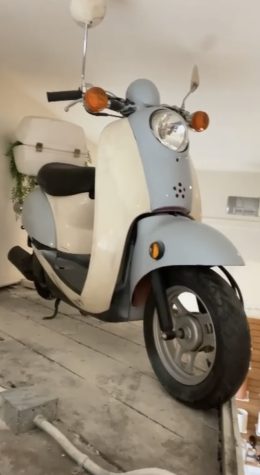 As someone who spent most of their life as a free spirit, opening a curated thrift store was quite the undertaking. With no business experience outside of Poshmark, the early days of Fancy-Free were a rollercoaster for Hillstrom, who said she learned some "very expensive lessons" as she navigated the lifestyle change.
"It was very difficult," Hillstrom said. "But it has never been about money. What it is about is I love people and I love providing service to people. It is not even about the clothes. It is not even about the stuff. It is about when somebody walks through the door, and we make a connection."
Fancy-Free has evolved tremendously within the two years it has been in business. The store originally started as a pop-up shop, meaning it was only open three days a month. This schedule was used to accommodate the types of thrifting hauls Hillstrom would go on. 
Considering Fancy-Free is a curated thrift store, meaning Hillstrom scours stores herself to find the best products for her clientele, she was traveling to California, Utah and several other states throughout the month to find the best of the best for her store.
"I drive, drive, drive, then thrift, thrift, thrift," Hillstrom said. "I find these cool things, fill up my car, come back and stock the shop."
Her love for people, however, made Hillstrom realize that the three-day-a-month schedule was not going to cut it. 
"When the shop was not open, it was so dark," Hillstrom said. "It just got cold and dark and all of this stuff was collecting dust because it wasn't actively for sale. I could just feel a difference because the store is so lively when it is open."
Shifting away from the pop-up-style store, Fancy-Free is now open five days a week. On her days off, Hillstrom travels to neighboring cities like Chicago and Minneapolis to restock the store. From vintage coats to home décor, eccentric dresses to handheld trinkets, the store is always brimming with Hillstrom's finds.
The thrill of the hunt, according to Hillstrom, never grows old.
"After every haul, I am like 'this is the best one yet,'" Hillstrom said. "It is like Christmas morning when I am unloading it."
In addition to being open more often, the store hosts several events every week. "Music and Movement" for toddlers is on Tuesdays, local musicians participate in open jams on Thursdays and scheduled live music is on Saturdays. 
Hillstrom views her store as a creative space for local artists and musicians. Her mission as a storeowner is "to stoke the wildfire of creative expression." This expression can be seen in all shapes and forms throughout the store, including a watercolor painting station, supplies for bracelet making and a variety of musical instruments. Fancy-Free also features products handcrafted by local artists monthly. 
"I want to share my store," Hillstrom said. "Something I saw was 'when creative people join hands, anything is possible.' It is so true."
Fancy-Free is open Tuesday through Friday from 2 p.m. to 8 p.m. and Saturday from 10 a.m. to 6 p.m. More information regarding the store's events, including sneak peeks at Hillstrom's latest thrifting finds, can be found on the store's Instagram account: @fancyfreehq.
"Our motto is 'never settle on a style,'" Hillstrom said. "It doesn't only pertain to what you are wearing, it also means that you don't have to be what other people make of you. You can keep growing and you don't have to let people put you in a box and you don't have to let people decide who you are. You are never settling."