Profile — Radio X provides opportunities for students
WUPX Radio X is NMU's student-run radio station. Starting in 1970 as WBKX, the station had to change its name to WUPX after applying for its license to adhere to the Federal Communications Commission criteria. 
"We've been FCC regulated for 50 years," said Julia Emery, a senior forensic biochemistry major and WUPX's station manager. "We started in Lee Hall, it was a dorm room. Then eventually they moved into the College Center before it was the Northern Center, and we've been here since then."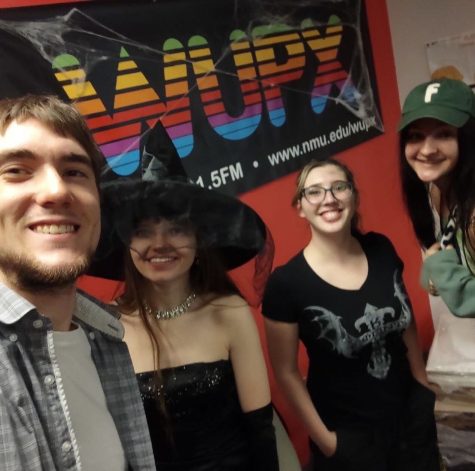 WUPX's station is located in the Northern Center, next to Cosmetology. Their office has a bright red wall, and on each of the walls hangs tens of music-themed posters, from various bands across genres to events that they've done in the past. The cabinet they have is covered in so many stickers and magnets that the original gray color only peeks out.
Sometimes even during a live broadcast, music will fill in the gaps between the conversation and every so often the DJ danced past the booth's window before getting back to math homework. Penguins, including a penguin suit hung in the corner, are also among the décor. All the penguins are named Earl.
Many DJs at WUPX play music, but they're not limited to that. WUPX allows their DJs the ability to be creative with what they put over the air, as long as it is approved by the FCC's regulations, such as swearing and copyright law.
"They can read stories or plays [that are in the public domain], they can play Dungeons and Dragons, they can do a talk show about random things as long as it's appropriate," said Lauren Lahtinen, a senior elementary education major and training director and assistant station manager at WUPX. "We had a business major, and he would do a stock market analysis every week."
With this creative freedom, a student might want to get involved with WUPX, even if their fields of study don't have anything to do with multimedia production.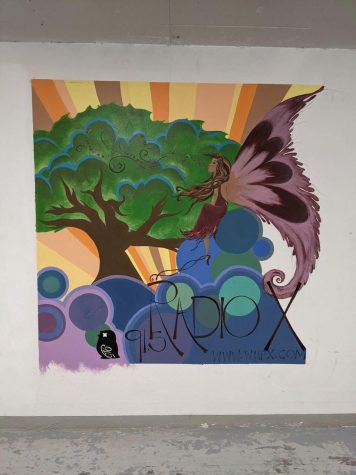 "I actually found out about Radio X before I went here," Emery said. "I was looking at the college's organizations and I saw Radio X, and I was like 'That's so cool.' When I got here I became a DJ and did an EDM and heavy metal show. I had people call in and be like 'I love this song,' and it really broke me out of my shell."
For Lahtinen, the first year of college was rough, due to COVID restrictions and lack of social opportunities. Radio X provided a space for her to meet people and be more involved.
"I was in a very bad place, and I wanted to have something to do. I was scrolling through the Hub and saw we had a student radio station, and I was like 'I'm gonna apply for that,'" Lahtinen said. "I really ended up loving it. It really kickstarted my enjoyment of the college experience."
You can listen to WUPX Radio X live here. For more information about WUPX, including how to apply to be a DJ.