National Collegiate Honors Council conference: students present research
Madison Christie, a senior international studies major, recalled a memory of sitting and talking with a group of students and faculty about existential topics such as if AI could have consciousness and how math would work in the future, after attending the National Collegiate Honors Council (NCHC) conference in Dallas.
"It felt so incredibly nice to be able to have deep and educated conversations with like-minded people, and we all ended up talking long after the meal was done and later joined together for another meal and spoke more," Christie said.
Both Christie and Mary Kelly, a senior environmental science major, presented their research at the NCHC conference with the NMU Honors Program.
The NCHC conference is held yearly and hundreds of honors students from across the country attend to present their research, Christie said.
"It was super fun, each student had to put their research findings on a poster that would then be presented to the people staffing the conference," Christie said.
The conference had many different academic events and activities, seminars and group conversations, all with the purpose of helping to enhance university-level honors programs around the United States, Christie said. 
Christie said she had previously done the research she presented while in an honors class at NMU. Prior to her presentation, she submitted her abstract and proposal to the NCHC for approval in February 2022.
The project was done solo and the conception of the research topic, the research itself, submitting it to the conference and designing the conference poster were all things she was expected to do on her own, Christie said.
"However, doing it on my own really taught me a lot and I now feel extremely confident about any future research I may do and present," Christie said.
It also looks good on a resume and is helpful for graduate school applications. Attending the conference is a way to get more involved within honors and the wider university honors community, and is a chance to network and strengthen research and presentation skills, Christie said.
Kelly began working on her research with professor Robert Legg from the NMU earth, environmental and geographical sciences department, and John Lambert, assistant research scientist, geospatial analysis with the University of Illinois Urbana-Champaign Prairie Research Institute, this past spring.
The goal of the project was to aim and identify to what extent machine learning and AI-based techniques — that allow us to configure computers so that they "think" like humans — may offer to improve site location modeling in contrast with traditional archeological methodologies.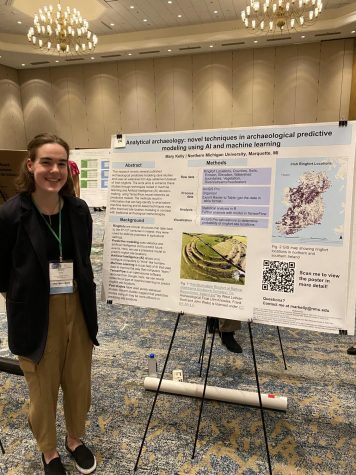 Past studies have focused on primarily statistical models, Kelly said, and we aim to enhance the current research by incorporating some newer AI and machine learning techniques — a subset of AI that focuses on improving the way that computers "learn." 
"It was the first academic conference that I had been to, so it was a little bit nerve-wracking at first, but it was a pretty amazing experience," Kelly said. "The judges and the folks that I talked to were super interested in the concepts and the ideas, they were really encouraging and it was a really supportive environment with some really, really cool people and really fascinating posters from students from all over the country."
Anna Zimmer, assistant director of the honors program at NMU and associate professor from the department of languages, literature and international studies, traveled to the NCHC conference with both Christie and Kelly.
"It was really exciting that they were able to share research that they conducted here at Northern with honors students and faculty from around the country, and then last week they had the opportunity to also share that research with the northern community here at the Olson library," Zimmer said.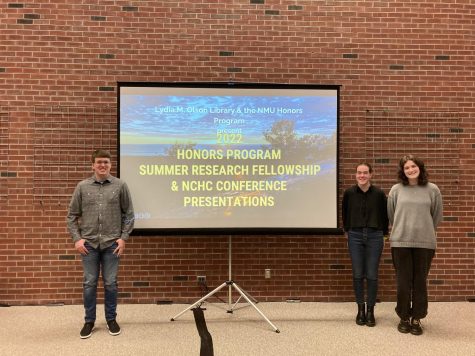 Zimmer does everything from serving as an additional academic advisor to all of the honors program's students to organizing events to meeting with prospective students who might want to come to Northern and apply to the honors program.
"I think one of the great things about Northern is that it's so focused on undergraduate education, while we have some graduate programs here our main priority as faculty is to our undergraduate students and the honors program is a great place to start research really early," Zimmer said.
Christie and Kelly said they encourage incoming freshmen to get involved with the freshman fellowship program and research opportunities.
"Getting involved, especially if you have thoughts about graduate school, with research — especially at Northern, and having that opportunity to kind of connect with faculty and do this type of work so early on in my academic career — has been really really valuable and something that I'll definitely take with me in the future," Kelly said. "I would definitely recommend that honors program students and any other students who might be interested in research [get involved]."
Students with questions about the conference or honors program can email [email protected] and Lee Xiong, director of the freshman fellowship program, can be reached at [email protected]