The new face of Public Eye News
WNMU-TV studio receives first major renovation since 1970s
WNMU-TV Public Eye News (PEN), an on-campus news broadcasting club, got a brand new studio. Located in the basement of Harden Hall, the plan for a new studio has been in the works for over a year and the refurbishment was completed this month.
With these renovations, students who participate in PEN will have new opportunities when broadcasting. New monitors were put in for sports, which allows the anchor to stand and talk rather than sit behind a desk.
Patrick Lakenen, director of broadcast and audiovisual at WNMU-TV, said the renovation was long overdue.
"Everyone knew it needed to be done," Lakenen said. "Kind of like when you need to get new shoes."
Public Eye News is a 15-minute news broadcast that is produced, directed and hosted by a staff composed entirely of NMU students. They cover local and national news, sports and weather. PEN airs on weekdays at 4 p.m. eastern time.
"Students come up with great stories they want to cover," Lakenen said. "It's really up to the students with what they want to cover."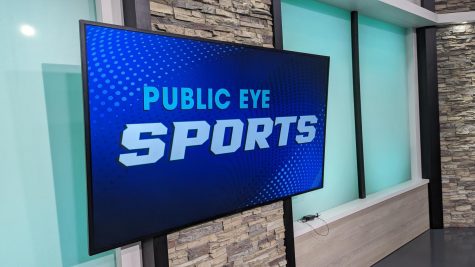 According to Lakenen, everyone in the studio has been excited about this renovation, including Megan Tarcea, a junior at NMU who produces the show. 
"I've gained hands-on experience with learning in this environment," Tarcea said. "You learn how to work cameras and how to direct."
Tarcea said that the broadcast has improved "tenfold," with better lighting and audio allowing the studio productions to look much more professional.
During her freshman year, Tarcea started off as a weather anchor before switching to news and operating behind the scenes as a sophomore. With this on-campus club, Tarcea was able to take the skills she acquired from PEN to WZMQ-TV 19, a local Marquette station, where she works part-time.
Although physical remodeling for the studio began in December, the news went on in the midst of construction. PEN was temporarily moved to Studio B, where WNMU-TV's High School Bowl is filmed. Studio B is also home to Public Radio 90, NMU's on-campus radio station.
"It's a great way to feel out what the profession is like, what news is like," Lakenen said.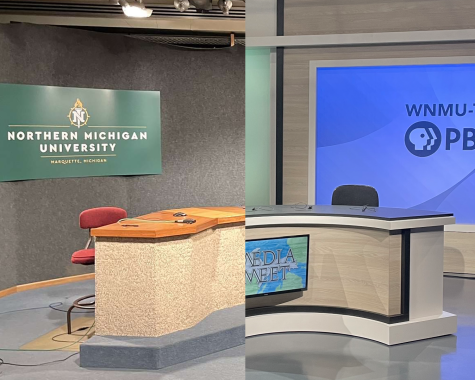 PEN has also helped many NMU graduates move on to bigger studios with all the experience and knowledge they gained while working at WNMU-TV. Students of any major are welcome to join PEN, where they will be able to try a bit of every position to see which one fits best to their interests. 
Michael Cudahy, who is in his fourth and last semester with PEN, started off behind the scenes before moving his way into sports. Cudahy now anchors news full-time.
"I really like the environment down here, a lot of it is the people that just like hanging out together," Cudahy said. "I've met a lot of great friends, but it is also a great place to learn how TV works and write stories."
Those who are interested in PEN and their weekday broadcasts are welcome to check out the studio at any time and get involved, whether it be operating cameras, working in the sound booth or being a news anchor. 
"For anybody who is interested in going into news for a career, [PEN] is the stepping stone for it for sure," Tarcea said.
Check out the gallery below for more before and after pictures: