Her Name Is Lillian: Inside The Student Opener For Hippo Campus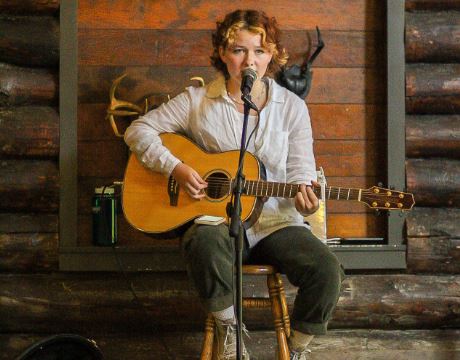 It's been a big couple months for international studies major, Lillian Pressnell-Manceau. On Nov. 29, she released her original song "Resin Way" followed by "Let It Be Me" on Feb. 4. On March 17 she will open for Indie Rock band Hippo Campus in the Vandament Arena, to an audience of around 1,800 people. On March 9, she plans to release her first extended play, Burn The Breeze.
With the stage name simply LPM, live performances have been Pressnell-Manceau's main source of income for two years now. Considering herself a live performer first, she described a "certain magic" that comes with live music. While she does plan on releasing more music, she mentioned a difficulty in releasing music with her dreams to have a full band in the future. 
"Being acoustic is not by choice. I don't like playing by myself or performing by myself," Pressnell-Manceau said. "I would prefer to release full band music, but I just need to stop waiting. I just need to do it. I just need to go for it. So, I'm going acoustic right now."
Ian Waston, co-president of student organization Northern Arts and Entertainment (NAE), suggested Pressnell-Manceau as an opening act for one of NAE's concerts. After having local band Liquid Mike open for Bryce Vine last fall, the organization took note of the positive response a local artist received from the community. This past January, paperwork was typed up, signatures were written, and Pressnell-Manceau was locked in as the opening act. 
"I had seen her perform in person before," Watson said. "And I really liked her sound, and I heard that she was going to be releasing an EP shortly before the concert. So, I figured that would be a good opportunity for NAE to use their platform and use our resources to boost students' careers."
NAE Co-Secretary Addi Pavlo shared these sentiments. Pavlo, who joined the club last fall, said NAE is in the process of putting the club further into the student body's sight, as COVID-19 created much difficulty for the organization in the past few years.
Despite some nerves around the concert, describing her role during the event as "an all-day thing," she expressed a lot of excitement.
"I think it's really cool to have someone like [Pressnell-Manceau] to introduce more to the community," Pavlo said. "And I've heard a lot about Lily, and I've heard her music. Really good stuff. So, it'll be really exciting."
A few weeks away from the concert, Pressnell-Manceau has spent her time working on the EP and figuring out her setlist for the show. Despite the audience being her biggest yet, the crowd isn't the focus of any pre-show stress from Pressnell-Manceau. Rather, technical issues such as feedback or her guitar falling out of tune take up more of her nerves. 
She recalled one basement show where she was to be accompanied by a full band. But by the time she was supposed to hit the stage, the drummer was missing, and both the bassist and guitarist were too intoxicated to perform. After finding replacements for guitar and drums, the now-trio hit the stage. Pressnell-Manceau decided to warm up the crowd with a Lana Del Rey cover, but as the drummer responded with a fast, pop-punk drumbeat, Pressnell-Manceau cringed. 
"I actually thought I was gonna pass out," Pressnell-Manceau said. "I was so stressed out, so I'm just nervous about stuff that I can't control."
Currently, Pressnell-Manceau is focused on polishing up her setlist, as well as getting her debut EP out in the coming weeks.